---
UPCOMING NEWS & GAMES

WEDNESDAY, SEPTEMBER 19, 2018

YOM KIPPUR

SATURDAY, SEPTEMBER 22, 2018

12U GOLD

IN USSSA "FALL BRAWL" POOL PLAY IN EAST HARTFORD, CT

9:00 – VS LADY TITANS ON PRATT & WHITNEY FIELD #2


10:30 – VS LADY PRIDE ON PRATT & WHITNEY FIELD #2

MIDDLE SCHOOL FALL SOFTBALL AT COGINCHAUG RHS, DURHAM 

9:00 – HK COUGARS VS CLINTON CRUSH ON CRHS FIELD #1


10:30 – WINNER COUGARS/CRUSH VS B-TOWN BANDITS ON CRHS FIELD #1

12:00 – LOSER COUGARS/CRUSH VS B-TOWN BANDITS ON CRHS FIELD #1

12:00 –  RENEGADES VS THUNDERBOLTS (DH) ON CRHS FIELD #2

1:30 – RACCOONS VS ELIMINATORS (DH) ON CRHS FIELD #1

3:00 – KOBRA-KAI VS PBFA-MFD (DH) ON CRHS FIELD #2

SUNDAY, SEPTEMBER 23, 2018

1

2U GOLD IN USSSA "FALL BRAWL" CHAMPIONSHIP PLAY IN EAST HARTFORD, CT

DOUBLE-ELIMINATION GAME SCHEDULE TBD

HIGH SCHOOL FALL SOFTBALL

9:00 – OLD SAYBROOK VS CHIEFS (DH) ON CRHS FIELD #1


9:00 –  ROLL TIDE VS TIDES (DH) ON MADISON TURF FIELD

12:00 – SS THUNDER VS MOHEGANS (DH) ON CRHS FIELD #1

SATURDAY & SUNDAY, SEPTEMBER 29 & 30, 2018

NO FALL SOFTBALL – DURHAM FAIR

ED HOBSON – DIRECTOR

65 ORCUTT DRIVE

GUILFORD, CT 06437

(203) 530-3964

hobson01@comcast.net

STING FALL LEAGUE
---
TAYLOR MYERS ACCEPTS PITCHING SPOT AT RWU
 
THE FALL SEASON IS UPON US AND THE NCAA RECRUITING SEASON IS WINDING DOWN.  WE ARE ALL PLEASED TO ANNOUNCE THAT
STING 18U

STANDOUT PITCHER,

TAYLOR MYERS

HAS ACCEPTED AN OFFER TO PITCH FOR

ROGER WILLIAMS UNIVERSITY

IN BRISTOL, RI.  TAYLOR WAS RECRUITED BY THE HAWKS DURING HER MAGNIFICENT PERFORMANCE AT THE CAPE COD COLLEGE SHOWCASE IN SWANSEA, MA, WHERE SHE WON THREE GAMES AND SAVED ONE FOR

STING 18U

.  SHE CONTINUED HER EXCELLENT PERFORMANCE IN THE CIRCLE AT THE RWU CLINIC ON SATURDAY, SEPTEMBER 8.
TAYLOR IS BEGINNING HER SENIOR YEAR AT EAST HAVEN HIGH SCHOOL, WHERE SHE IS AN EXCELLENT STUDENT AT THE TOP OF HER CLASS.  SHE IS LOOKING FORWARD TO HER UPCOMING SCHOLASTIC SEASON, AS WELL AS, THE 2019 STING SUMMER SEASON.  RWU WAS TAYLOR'S FIRST COLLEGE CHOICE AND WE ALL THANK COACH MAUDIE AND COACH MASTRANGELO FOR THEIR ATTENTION TO TAYLOR.  WE ALL WISH CONGRATULATIONS TO TAYLOR AND HER FAMILY ON THIS WONDERFUL ACHIEVEMENT AND OPPORTUNITY.
---
THE SUMMER SEASON OF WEEKEND RAIN ENDS WITH A SPLASH

PICTURED ABOVE FROM LEFT, VIVIAN PARADIS, COLLEEN EDWARDS, EMILEY WILSON AND MADISON HUBBARD END THE 2018 – 14U WHITE TRAVEL CAMPAIGN FITTINGLY WITH A SPLASH AFTER THEIR RAIN OUT IN LOWELL, MA.
---
JULY 28 & 29……….STING 12U GOLD & STING 12U BLUE FINISH ONE/TWO IN STINGER XI
TWO STING 12U TEAMS PLAY FOR STINGER XI CHAMPIONSHIP
STING 12U GOLD AND STING 12U BLUE PLAYED FOR THE STINGER XI CHAMPIONSHIP.  THE OLDER STING 12U GOLD TEAM PREVAILED 6-2 IN A HARD FOUGHT CONTEST ON SUNDAY, JULY 29, BEHIND THE STRONG RIGHT ARM AND PROLIFIC BAT OF KACEY EDWARDS.  THE YOUNGER 12U BLUE TEAM ACQUITTED THEMSELVES WELL THROUGHOUT THE CONTEST AND OVER THE COURSE OF THE VERY EXCITING STINGER WEEKEND.  SEE ALL WINNERS
---
JULY 22 & 23……….
STING 12U GOLD

&

STING 14U BLUE

FINISH #2 SEEDS & FINALISTS……….STING 14U WHITE WINS BRONZE……….
STING14U WHITE DISPLAY THEIR MEDALS ABOVE (STANDING FROM LEFT) MAYA CONCEPCION, CALLIE TEPER, "QUEEN" VICTORIA GAGE, MADDIE HUBBARD, CHRISTINA LOMBARDI, SARA COLEY, COLLEEN EDWARDS.  (FRONT KNEELING FROM LEFT) EMILEY WILSON, SAM FRANCESCHI AND VIVIAN PARADIS AFTER NUTMEG STATE GAMES IN BERLIN, CT.  SUNDAY PLAY AT USA SOFTBALL'S SUMMER SPECTACULAR IN MERIDEN, CT WAS RULED A RAIN OUT IN ALL DIVISIONS. 
STING 12U GOLD

WON THE FINALIST AWARD BY VIRTUE OF THEIR #2 SATURDAY SEED.  LIKEWISE,

STING 14U BLUE

WERE FINALISTS IN THE 16U BRACKET BY VIRTUE OF THEIR #2 SATURDAY SEED.
---
JULY……….STING 14U BLUE GAIN FINALIST FINISHES TWICE IN JULY
STING14U BLUE

FINISHED AS FINALISTS IN EACH OF THEIR FIRST TWO JULY WEEKENDS.  ABOVE (VERY TOP) THE 14'S DISPLAY THEIR FINALIST AWARDS IN USSSA "FIRECRACKER ON THE FOURTH" IN EAST HARTFORD, CT.  ABOVE (LOWER), THEY ARE PICTURED AS FINALISTS IN THE USA SOFTBALL "JUNGLE JAMBOREE" IN WEST HARTFORD, CT.
JUNE 23 & 24……….STING 10U WINS IN CHESHIRE, 14U GOLD RUNNERS-UP IN 16U CHAMPIONSHIP
STING 10U IN THE WINNER'S CIRCLE IN CHESHIRE
IT IS WITH GREAT PRIDE THAT SHORELINE STING HONOR OUR LITTLEST ONES (
STING 10U

), WHO WON THEIR FIRST EVENT OF THE YEAR IN THE CHESHIRE FLAMES INVITATIONAL IN CHESHIRE, CT.  GOING 3-0 IN SATURDAY'S POOL PLAY, STING 10U ENTERED SUNDAY AS THE #1 SEED.  STING ONLY ALLOWED ONE RUN ON SUNDAY AND FINISHED THE DAY ANOTHER PERFECT 3-0, BEATING THE #2 SEED MID-HUDSON REBELS (NY) IN THE FINALS!  PITCHER CHRISTINA ANEIRO WON TWO SUNDAY GAMES AND GRACE HALL RECORDED THE OTHER WIN.  ALL PLAYERS CONTRIBUTED OFFENSIVELY OVER THE WEEKEND, WITH ANEIRO HITTING TWO HOME RUNS AND A TRIPLE.  GIOIA SEGUI AND JULIANNA ONOFRIO ALSO GOT BIG HITS.  PICTURED ABOVE WITH THEIR WINNERS TROPHIES ARE (TOP ROW FROM LEFT) COACHES RUBIN ALVAREZ, DAVE ARDITO, HEAD COACH KEITH DURKIN, DEAN VITARISI AND TOM MARTONE.  (SEOND ROW STANDING FROM LEFT) ARE SEGUI, ANEIRO, HALL, AVA RYSZCZYK, ALLIE MARTONE, KALEIGH DURKIN AND ONOFRIO.  (KNEELING FROM LEFT) ELLA MUNSON, ANAI ALVAREZ, EMERSON GOLDEN, LILY ARDITO AND LAUREN VITARISI.
STING 14U GOLD CONTINUES HUGE SPLASH IN

16U

DIVISION IN STATE CHAMPIONSHIP
STING 14U GOLD CONTINUES TO SOLIDIFY THEIR REPUTATION AS A TRULY ELITE TRAVEL TEAM, FINISHING RUNNERS-UP IN THE 16U BRACKET OF THE CT STATE CHAMPIONSHIP.  PICTURED ABOVE ARE (STANDING FROM LEFT): ERICA PIERCEY, GRACE HARTMANN, HANNA SENERCHIA, JILL BATICK, KAYLA GOODRICH, SOPHIA ANASTASIO AND ABBY CODY.  (SEATED FROM LEFT);  KELLY PRITCHARD, JORDAN CHAMBERLAIN, KAYLA ROSARIO, TORI HEAPHY AND JADA MICONI.
---
STING PLAYERS SQUARE OFF IN LITTLE LEAGUE COMPETITION
STING 12U BLUE

TEAMMATES SQUARE OFF AS COMPETITORS WITH NORTH BRANFORD AND THE ANNEX IN THE LITTLE LEAGUE TOWN ALL-STAR TOURNAMENT.  BOTH PICTURES (FROM LEFT) ARE KILEY MULLINS, LEXI FALCIONI, GABBY BIGIO, MORGAN MODINE, GABBY SENERCHIA, NATALIA LUCIBELLO AND ADRIANA HILLS.

---
JUNE 16 & 17……….WATERTOWN RAPIDS EVENT HOSTS 16U & 18U
STING 18'S WIN FIVE AND FINISH SECOND IN 14 TEAM FIELD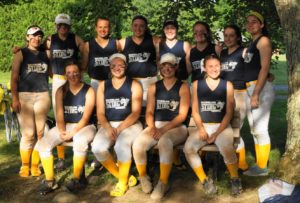 STING 18U

ENTERED SUNDAY AS A FOUR-SEED OUT OF 14 TEAMS COMPETING IN

GROWS/RAPIDS SUMMER SWING IN WATERTOWN, CT.

  THE 18'S BEGAN THE DAY DEFEATING THE CT BULLETS RED BEHIND TAYLOR MYERS IN THE CIRCLE.  PITCHER ISABEL SICILIANO TOOK CONTROL OF THE NEXT TWO GAMES, BEATING THE CT SEAHAWKS AND AVENGING A SATURDAY LOSS VS. RIDGEFIELD REBELS.  THE GAME WAS PUNCTUATED BY A SOLO HOME RUN BY EMILY NELSON AND A DIVING CATCH AND SNAP THROW TO FIRST BY RIGHT-FIELDER ANNIKA RYER, TO DOUBLE THE RUNNER AND END THE SEMI-FINAL GAME WITH A CRUCIAL DOUBLE PLAY.  UNFORTUNATELY, THE 18'S RAN OUT OF GAS IN THE FOURTH SUNDAY GAME, DROPPING A ONE-RUN CONTEST TO LADY KNIGHTS BLACK.  SICILIANO AND NELSON WERE WINNING PITCHERS ON SATURDAY, WITH OUT-OF-THE-PARK BLASTS BY SICILIANO AND CAITIE CASEY-LEONARD.  PICTURED ABOVE: (STANDING FROM LEFT) BRIANA BEVERLY, GRACE KUCK, HANNAH LEMKE, SICILIANO, CASEY-LEONARD, MEGHAN GILLIS, ALYSSIA JONES AND RYER.  SEATED (FROM LEFT) ALEX BURDICK, MYERS, NELSON AND NIKKI MARSH.

THE TEAM HEADS TO HAGERSTOWN, MD ON THURSDAY, JUNE 21 TO COMPETE IN THE FIRECRACKER COLLEGE SHOWCASE.
---
STING 16U CELEBRATES FATHER'S DAY IN WATERTOWN
COACH AIKEN'S

STING 16U

TEAM CELEBRATES FATHER'S DAY (GIRLS PICTURED WITH THEIR SUPPORTIVE DADS) AT THE GROWS/RAPIDS EVENT IN WATERTOWN ON SUNDAY, JUNE 17.  THE 16'S FINISHED WITH A PERFECT 3-0 RECORD ON SATURDAY, GAINING A #2 SEED, BUT LOST IN THE SEMI-FINALS.
---
JUNE 9 & 10……….WHAT A WEEKEND!  TWO WINS IN EAST HARTFORD AND RUNNERS-UP IN MASS……….
14U GOLD DOMINATES 16U DIVISION IN USSSA "BRING THE HEAT"
EAST HARTFORD:  STING 14U GOLD MOVED UP TO PLAY WITH THE "BIG GIRLS" IN THEIR TRUE SUMMER OPENER IN EAST HARTFORD AND WOUND UP WITH A 3-0 SATURDAY, A 3-0 SUNDAY AND A TOURNAMENT CHAMPIONSHIP.  STING KNOCKED OFF THE CAPITAL REGION REIGN (NY) 10-0 IN THE FINAL, BEHIND FIREBALLER, KELLY PRITCHARD IN THE CIRCLE.  OTHER PITCHERS, TORI HEAPHY AND ERICA PIERCEY JOINED WITH PRITCHARD TO GIVE UP ONLY FOUR RUNS TOTAL THROUGHOUT THE ENTIRE WEEKEND.  PICTURED ABOVE ARE "BRING THE HEAT" 16U CHAMPS:  (STANDING FROM LEFT) COACH CHRIS PIERCEY, SOPHIA ANASTASIO, KAYLA GOODRICH, KELLY PRITCHARD, TORI HEAPHY, JADA MICONI, JILLIAN BATICK, JORDAN CHAMBERLAIN, COACH RUSS  SENERCHIA.  KNEELING (FROM LEFT) KAYLA ROSARIO, HANNA SENERCHIA, ERICA PIERCEY.  (NOT PICTURED: ABBY CODY, GRACE HARTMANN, MAIRAID "RAIDER" AIKEN.

---
STING 14U BLUE WINS CHAMPIONSHIP IN EAST HARTFORD
STING 14U BLUE GOT OFF TO A ROCKY START IN "BRING THE HEAT" I4U BRACKET, BUT RIGHTED THE SHIP AND FINISHED WITH A 2-1 SATURDAY AND CLEANED UP ON SUNDAY, WINNING ALL THREE GAMES AND THE CHAMPIONSHIP.  ALL THREE PITCHERS, BELLA HILLS, ERIN DONLAN AND EMA SIGNORE WERE PROLIFIC ALL WEEKEND, IN CONTROLLING THE COMPETITION.  MAGDALENA BARTHEL WENT "YARD" ON SUNDAY AND RYEN WOLCHESKI CAME CLOSE TWICE.  STING BEAT THE CT TIGERS 13-3 IN THE FINALS.  PICTURED ABOVE ARE: (STANDING FROM LEFT) ALEX DUVAL, LAUREN ACKERMANN, MAISSA CASO, ALLIE PETONITO, RYEN WOLCHESKI, BELLA HILLS, ERIN DONLAN.  (KNEELING IN FRONT FROM LEFT):  SOPHIA OUELLET, EMA SIGNORE, MIA DELOUGHERY, MAGDALENA BARTHEL.
STING 12U GOLD RUNNERS UP IN STERLING, MASS
A 3-0 SATURDAY AND #1 SEED WAS TRULY RAREFIED AIR FOR STING 12U GOLD.  THE TEAM HAS HAD LIMITED SUCCESS, BUT IS GETTING BETTER EVERY WEEK.  THEY MANAGED TO WIN THEIR FIRST TWO SUNDAY GAMES, UNTIL LOSING IN THE FINALS, FINISHING RUNNERS-UP IN USA SOFTBALL'S "BATTLE IN THE HIVE".  PITCHERS KACEY EDWARDS AND ADRIANA PIASCIK LED THE WAY IN THE CIRCLE.  A 5-1 RECORD MADE THE SUMMER WEEKEND DRIVE TO MASS MUCH MORE PLEASANT.  PICTURED ABOVE ARE (TOP FROM LEFT) SYDNEY ROBBINS, COACH MINETTA MURRETT, ADRIANA PIASCIK, KELSIE PIELA, SOPHIA STANGER, SAMI GREEN, KACEY EDWARDS.  (BOTTOM FROM LEFT):  COURTNEY VAUSE, RUBI ESPEJO, ANNE PLUNKETT, LINDSEY ONOFRIO, COACH KATIE HOBSON, COACH KELLEY EDWARDS, (NOT PICTURED, OLIVIA SCHOFIELD).

STING 14U WHITE OPENS SEASON WITH EXCELLENCE IN NEW HAMPSHIRE
STING 14U WHITE OPENED THEIR 2018 SEASON IN LAKE CANOBIE, NEW HAMPSHIRE ON JUNE 2 AND 3 WITH A #1 SATURDAY SEED, FINISHING 3-0, WITH ONLY TWO RUNS SURRENDERED.  THEY WON THEIR OPENER ON SUNDAY, BUT UNFORTUNATELY LOST IN THE QUARTER FINALS TO THE EVENTUAL TOURNAMENT WINNER.  COACH GAGE'S TEAM IS COMPRISED OF RETURNING PLAYERS FROM 2017 STING 14U WHITE AND NEW PLAYERS SIGNED LAST SUMMER AND FALL.  THEY FINISHED 4-1 OVERALL IN THEIR INAUGURAL 2018 OUTING.  PICTURED BELOW (FROM LEFT) COLLEEN EDWARDS, SARA COLEY AND VICTORIA GAGE LISTEN TO THE UMPIRES PRE-GAME INSTRUCTIONS.  FARTHER BELOW (FROM LEFT) CATCHER EMILEY WILSON RECEIVES AND PREPARES TO THROW.  (ON THE RIGHT) SAM FRANCESCHI BLOCKS SECOND BASE AND APPLIES THE TAG.
 
---
THINK PINK!
BOTH STING 12U GOLD AND

12U BLUE

TEAMS BOTH DONNED

PINK

IN SUPPORT OF CANCER RESEARCH AND PREVENTION AT THE

STRIKE-OUT CANCER

CHARITY EVENT

.  ON SATURDAY, THEY ARE PICTURED ABOVE.  THE TWO TEAMS MET ON SUNDAY AND PLAYED NECK-AND-NECK THROUGH THE INTERNATIONAL TIE-BREAKER, WITH

12U BLUE

PREVAILING 3-2.
---
14U BLUE (13 YEAR-OLD COMBO TEAM) NETS EARLY USSSA SEASON SUCCESS
WITH HIGH SCHOOL PLAYERS PROHIBITED FROM TRAVEL PLAY, COACH HILLS ROSTERED ALL 13 YEAR-OLDS FOR THIS SPECIAL 14U TEAM.  THE TEAM PLAYED IN FOUR USSSA EVENTS, FINISHING RUNNERS-UP IN THREE.  THE TEAM IS PICTURED ABOVE: (STANDING FROM LEFT) ALLIE PETONITO, LENA BARTHEL, "QUEEN" VICTORIA GAGE, KENDALL LAMORTE, LAUREN ACKERMANN, MAISSA CASO.   (KNEELING FROM LEFT) ALEX DUVAL, RYEN WOLCHESKI, BELLA HILLS AND HANNA SENERCHIA
---
WHAT TO DO IN A RAIN DELAY?
STING 16U GOT TOGETHER WITH THE ECLIPSE FROM MASSACHUSETTS AND FOUND A WAY TO EASE THEIR FRUSTRATION DURING A RAIN DELAY.  CLICK ON THE ARROW TO PLAY VIDEO.

---
SATURDAY MORNING SPORTS SHOW 5:30 – 8:00 AM AND WEEKDAYS 5:30 – 9:00 ON THE "VINNY PENN PROJECT" WELI 960 AM –

"THE COACH GEORGE DEMAIO"

WILL FEATURE

SOFTBALL NEWS AND GUESTS FROM AREA TEAMS. TUNE IN AND STAY IN TOUCH.