---
UPCOMING NEWS & GAMES

SATURDAY, JANUARY 23, 2021

9:00 – 11:00 – 16U BLUE – WINTER PRACTICE AT "HOMEFIELD", CENTERBROOK

12:00 – 2:00 – 16U WHITE – WINTER PRACTICE AT "MIDDLETOWN AVE", NORTH HAVEN

12:00 – 2:00 – 18U BLUE – WINTER PRACTICE AT "HOMEFIELD", CENTERBROOK

SUNDAY, JANUARY 24, 2021

10:00 – 11:30 – 12U – WINTER PRACTICE AT "GANDO DRIVE", NEW HAVEN

2:00 – 4:00 – 14U – WINTER PRACTICE AT "GRIT", NORTH BRANFORD

6:00 – 8:00 – 18U GOLD – WINTER PRACTICE AT HOMEFIELD, CENTERBROOK

TUESDAY, JANUARY 26, 2021

6:00 – 7:30 – 12U – WINTER PRACTICE AT "GANDO DRIVE", NEW HAVEN

WEDNESDAY, JANUARY 27, 2021

6:00 – 8:00 – 14U – WINTER PRACTICE AT "GRIT", NORTH BRANFORD

6:00 – 8:00 – 16U BLUE – WINTER PRACTICE AT "HOMEFIELD", CENTERBROOK

THURSDAY, JANUARY 28, 2021

6:00 – 8:00 – 10U – WINTER PRACTICE AT "GRIT", NORTH BRANFORD

SATURDAY, JANUARY 30, 2021

9:00 – 11:00 – 16U SILVER – WINTER PRACTICE AT "HOMEFIELD", CENTERBROOK

12:00 – 2:00 – 16U WHITE – WINTER PRACTICE AT "MIDDLETOWN AVE", NORTH HAVEN

12:00 – 2:00 – 18U BLUE – WINTER PRACTICE AT "HOMEFIELD", CENTERBROOK

SUNDAY, JANUARY 31, 2021

10:00 – 11:30 – 12U – WINTER PRACTICE AT "GANDO DRIVE", NEW HAVEN

2

:00 – 4:00 – 14U – WINTER PRACTICE AT "GRIT", NORTH BRANFORD

6:00 – 8:00 – 18U GOLD – WINTER PRACTICE AT HOMEFIELD, CENTERBROOK

ED HOBSON – DIRECTOR

65 ORCUTT DRIVE

GUILFORD, CT 06437

(203) 530-3964

hobson01@comcast.net
---
SHORELINE STINGER XIV – SATURDAY & SUNDAY, JULY 31 & AUGUST 1
---
FULL TEAM STING WINTER PRACTICES RESUME AT MULTIPLE LOCATIONS

FROM NOVEMBER 7, 2020,
14U

AND

10U

POSE AT THEIR "HOUSE", WINTER TRAINING CENTER "GRIT" IN NORTH BRANFORD.  AT TOP, TOP ROW FROM LEFT IS

14U

, MIA STARLING, McKAYLA GREENWOOD, CHRISTINA ANEIRO, KYRA MANNING, BRIELLE KENNEY, ANAI ALVAREZ, LILY ARDITO, KALEIGH DURKIN, AVA RYSZCZYK AND ABBY YOUNG (MISSING:  ERIN CERNEY)  KNEELING IS

10U

:  AUBREY CAPORALE, GABBY FERRAIOLO, TESSA DELUCIA, ADILYN WYATT, LEXI DURKIN, RORY ULSTAD, AVA FERRUCCI (MISSING ARE CAYDENCE CAPORALE, SOPHIA VIRGINELLI, EDEN ANDERSON, ISABELLA FAHY, BRIANNA CONLAN)
SITE OF STING INDOOR WINTER EVENTS FALLS UNDER 32 INCHES OF SNOW……….
ADIRONDACK DOME COLLAPSES
---

THE ADIRONDACK DOME, SCHEDULED SITE OF THREE SHORELINE STING INDOOR WINTER EVENTS IN QUEENSBURY, NY, HAS COLLAPSED UNDER 32 INCHES OF SNOW.  IF LAST SEASONS CANCELLATIONS AND RESCHEDULING WEREN'T ENOUGH, THIS LATEST ADVERSITY ADDS A NEW WRINKLE IN OUR EVER EVOLVING TOURNAMENT SCHEDULES. 

16U SILVER

,

16U BLUE

AND

18U GOLD

HAD WINTER EVENTS SCHEDULED THERE.  AS ALWAYS, ITS BACK TO THE DRAWING BOARD REGARDING OUR 2021 TOURNAMENT SCHEDULES.
SHORELINE STING SENDS ITS BEST FOR A FAST RECOVERY TO OUR FRIENDS, MANAGEMENT AND STAFF AT ADIRONDACK DOME.
---
2021 SHORELINE STING'S NEWEST TEAM PRACTICES……….
STING 18U BLUE ENJOYS DECEMBER "BONUS" WEATHER
SHORELINE STING'S NEW 18U BLUE TEAM TOOK ADVANTAGE OF PLEASANTLY UNUSUAL 60 DEGREE WEATHER ON SUNDAY, DECEMBER 13.  STAYING WITHIN THE STATE'S GUIDELINES FOR PRACTICE, FOUR 18U BLUE PLAYERS TOOK THE FIELD FOR AN OUTDOOR PRACTICE.  (PICTURED ABOVE ARE "THE DECEMBER FOUR", FROM LEFT ARE FRANCESCA VALLETTA, BRANFORD H.S., TESSA McLAUGHLIN, BOZRAH (NFA), KYLIE PINNEL, WATERFORD AND MAYA SALVANA, HAMDEN (HOPKINS SCHOOL)
STING 18U BLUE IS THE ORGANIZATION'S NEWEST TEAM.  IT WAS FORMED ORGANICALLY, 11 PLAYERS FROM 12 DIFFERENT TOWNS, AND CONSISTS OF TWO VETERAN PLAYERS FROM 2020 16U GOLD AND TWO FROM 2020 16U BLUE.  THE OTHER EIGHT PLAYERS WERE ACQUIRED THROUGH OPEN TRYOUTS AND AN AGGRESSIVE RECRUITING EFFORT.
THE BALANCE OF THE 18U BLUE ROSTER CONSISTS OF HENDRIX KRUSZEWSKI (FROM 16U GOLD), NORWICH (NFA), KRISTIE ZATOR (FROM 16U GOLD), PARISH HILL H.S., BRIANNA SEGAR (FROM 16U BLUE), WEST HARTFORD (CONARD H.S.) AND BIANCA ARIAS (FROM 16U BLUE), CLINTON (THE MORGAN SCHOOL), SKYLAH SAN MIGUEL, WALLINGFORD (SHEEHAN H.S), KAT McQUEENEY, HIGGANUM (HADDAM-KILLINGWORTH H.S.), EMILY ZIEBA FROM BERLIN H.S. AND HAILEY WIECZOREK ALSO FROM BERLIN H.S.
INDOOR PRACTICE FOR 18U BLUE IS SCHEDULED TO BEGIN ON SATURDAY, JANUARY 23 AT THEIR WINTER HOME, "HOMEFIELD" IN CENTERBROOK, CT.  THEIR FIRST TOURNAMENT IS SCHEDULED THE WEEKEND OF JUNE 11 – 13, 2021 AT THE WAVES SUMMER SLAM IN WEST GREENWICH, RI. (INSET ABOVE LEFT, KYLIE PINNEL HITS) (BELOW LEFT, TESS McLAUGHLIN AT FIRST BASE AND BELOW RIGHT, FRANCESCA VALLETTA DIVES INTO THIRD.)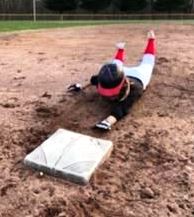 MIA STARLING (STING 14U) AND FAMILY STAR IN "LL BEAN" NATIONAL COMMERCIAL SEEN ON NETWORK TV 
SEE THE VIDEO
ANOTHER HALLOWEEN "DRESS UP" EVENT AT FPN
"IF WE'RE TALL, OR IF WE'RE SMALL, WE STILL LOVE TO PLAY BALL!"
WITH APOLOGIES TO DR. SEUSS, 16U WHITE CELEBRATES THE SEASON DURING ANOTHER HALLOWEEN EVENT AT FASTPITCH NATION, WINDSOR.
---
FASTPITCH NATION'S "HALLOWEEN SPOOKTACULAR"
ORANGE IS THE NEW BLACK
STING 14U

PARTICIPATED IN THEIR FIRST 14U EVENT AT FAST PITCH NATION, WINDSOR ON OCTOBER 24 & 25.  THE TOURNAMENT, THE ANNUAL "HALLOWEEN SPOOKTACULAR", ASKS THE PARTICIPATING TEAMS TO DRESS UP FOR HALLOWEEN.  THERE WERE HUNTERS & GAME, M & Ms, ZOMBIES AND OTHERS. 

STING 14U

OPTED FOR PRISON GARB, WITH THE COACHES, AS THEIR JAILERS.  PICTURED ABOVE STANDING FROM LEFT, BRIELLE KENNEY, KYRA MANNING, MIA STARLING, LILY ARDITO, ANAI ALVAREZ, ERIN CERNY AND CHRISTINA ANEIRO.  KNEELING IN FRONT ARE (FROM LEFT) KAYLEIGH DURKIN, ABBY YOUNG AND AVA RYSZCZYK (MISSING IS McKAYLA GREENWOOD.)
                              16U WHITE WINS AT FPN "SMASHING PUMPKINS"
IN THEIR FIRST SEASON OFFICIALLY AT 16U, COACH SENERCHIA'S GIRLS (LAST SEASON'S 14U GOLD) CAME UP VICTORIOUS AT LAST WEEKENDS FASTPITCH NATION'S "SMASHING PUMPKINS" EVENT LAST WEEKEND.
16U WHITE FINISHED SATURDAY 2-0-1 FOR A #3 SEED.  ON SUNDAY, THEY BEAT FURY SOFTBALL IN THE QUARTERFINALS, KNOCKED OUT HUSKERS (GREEN) IN THE SEMIS AND SHUT OUT THE EAST COAST IMPACT IN THE FINALS.
PICTURED AT BELOW, ADRIANA HILLS TAGS OUT A HUSKERS RUNNER BEFORE SHE REACHES THE PLATE.  ADDIE SMITH CRASHES HOME, DISLODGING THE BALL TO SCORE A RUN.

WITH MANY MORE TO COME, 16U WHITE POSES WITH THEIR CHAMPIONSHIP PLAQUE AND MEDALS.  STANDING ABOVE (FROM LEFT), ALEX BACHER, EMMA BAYOR, GABBY BIGIO, GABI SENERCHIA, MORGAN MODINE, ADRIANA HILLS.  KNEELING (FROM LEFT), KILEY MULLINS, ALAYNA MARIANI, ADDIE SMITH, ALEXA FALCIONI, NATALIA LUCIBELLO.  (PHOTOS FROM DINA FALCIONI)
STING 14U BLUE A PERFECT 4-0 FIRST PLACE AT FASTPITCH NATION
STING BLUE……….WOOOOOOOOOO!
A SOMETIMES CHALLENGING SEASON, CAME TO A WONDERFUL, SUCCESSFUL CONCLUSION FOR THE VERY ENTHUSIASTIC PLAYERS AND FANS OF STING 14U BLUE, AS THEY FINISHED A PERFECT 4-0 AND IN FIRST PLACE AT "KEEP THE SEASON GOIN' II" AT FASTPITCH NATION IN WINDSOR, CT ON AUGUST 16.  STING BLUE COLLECTED VICTORIES VS. THE FIREBALLS AND BATTER'S BOX RENEGADES (YOUNGER TEAM) ON SATURDAY AND BATTER'S BOX RENEGADES (OLDER TEAM) AND THE, ALWAYS TOUGH, SOUTHINGTON LIGHTNING ON SUNDAY.  IT WAS TOTAL TEAM EFFORT ON THE FIELD, BEHIND THE STRONG RIGHT ARM OF JAMIE BUCIOR AND THE STRONG LEFT ARM OF NINA DEMENNATO IN THE CIRCLE, WITH OCCASIONAL HELP FROM MELANIE MARTIN.  ABOVE:  STING 14U BLUE POSES UNDER THE SCOREBOARD OF THEIR HARD FOUGHT NIGHTCAP WIN AGAINST THE LIGHTNING.  PICTURED ABOVE IN BACK (FROM LEFT) ARE MELANIE MARTIN, EMMA GETROST, COACH KATIE HOBSON, HAILEY CHRISTENSEN, JENNY CRETELLA, ALYSSIA MAIKOWSKI, ANNA SOLIWODA, JAMIE BUCIOR, JENNY SCHAUDER NINA DEMENNATO, HEAD COACH DAN MARSH AND COACH MIKE BUCIOR.  IN FRONT (FROM LEFT) ARE COURTNEY VAUSE, AVERY STADLER, SADIE IOZZIA AND TAYLOR FERRIAOLO.  AT THE RIGHT, JAMIE BUCIOR AND ANNA SOLIWODA CELEBRATE A SUCCESSFUL DEFENSIVE INNING ON SATURDAY AND  CATCHER MELANIE MARTIN TRACKS AND CATCHES A SHORT POP IN FRONT OF THE PLATE ON SUNDAY.
SHORELINE STINGER XIII CONCLUDES WITH SUNDAY CHAMPIONSHIPS
ANOTHER YEAR IN THE BOOKS FOR STING'S HOSTED TOURNAMENT.  THE POPULAR
SHORELINE STINGER XIII

CONCLUDED ON SUNDAY, AUGUST 2, WITH CHAMPIONS NAMED IN ALL FOUR BRACKETS.  IN THE 12U AGE GROUP, CT RAMS DEFEATED SEYMOUR TRADITION FOR THE CHAMPIONSHIP.  IN 14U, LI CRUSH WON OVER RUNNER UP NEWTOWN THUNDER.  THE CT BOMBERS BLACK TOOK THE 16U BRACKET OVER THE CT TITANS GREEN.  IN 18U, ROTTERDAM REIGN WON THE CHAMPIONSHIP AND

SHORELINE STING

FINISHER RUNNER UP.  THANKS TO ALL TEAMS THAT PARTICIPATED AND ESPECIALLY TO THE DEDICATED HELP FROM OUR STING PARENT GROUP.  LOOK FOR

SHORELINE STINGER XIV ON JULY 31 & AUGUST 1, 2021.

  PICTURED BELOW IS LI CRUSH WITH THEIR 14U CHAMPIONSHIP GOLD CUP.
WHAT A WEEKEND! PERFECT 4-0 IN MERIDEN FOR STING 16U GOLD
STING 16U GOLD

DOMINATED THE THREE DAY SUMMER SPECTACULAR EVENT ON JULY 24 – 26 IN MERIDEN, CT.  ON FRIDAY,

COACH GAGE'S GOLD

BEAT THE CT BULLETS 8-0. THE CENTRAL MASS PANTHERS AND CHARLETON WILDFIRE FELL VICTIM TO

GOLD

ON SATURDAY, 7-2 AND 5-0, RESPECTIVELY. 

STING

FINISHED OFF THE PERFECT WEEKEND KNOCKING OFF THE CT LADY KNIGHTS 9-6 ON SUNDAY.  THE PITCHING WAS PHENOMENAL ALL WEEKEND, WITH

VICTORIA GAGE

RECORDING THE TWO SHUT OUT WINS.  THE BATS CAME ALIVE ALL WEEKEND, WITH

PAYTON LOWE

,

MEGAN HART

AND

EMILEY WILSON

LEADING THE OFFENSIVE CHARGE. 

FRANKIE FOSTER

BURNED UP THE BASE PATHS. 

SHORTSTOP GRACE LATHROP

WAS FLAWLESS DEFENSIVELY, PLAYING ERROR FREE BALL ON 20 CHANCES.  PICTURED BELOW (KNEELING FROM LEFT)

EMILEY WILSON

,

GRACE LATHROP

,

HENDRIX KRUSZEWSKI

,

VIVIAN

PARADIS

AND

CHRISTINA LOMBARDI

.  (STANDING FROM LEFT)

COACH MATT O'CONNOR

,

MEGAN HART

,

PAYTON LOWE

,

CAYLEE PARKER

,

FRANKIE FOSTER

,

VICTORIA GAGE

AND

COACH DAVE GAGE

.

JULY 17 – 19
14U GOLD RUNNERS UP AT USSSA NORTHEAST NATIONALS
STING 14U GOLD WON SIX CONSECUTIVE POOL GAMES FOR A #1 SEED IN THE USSSA NORTHEAST NATIONAL CHAMPIONSHIPS.  THE EVENT WAS PLAYED OVER FOUR DAYS AT "FASTPITCH NATION" IN WINDSOR, CT.
STING GOLD BEAT KING PHILIP PRIDE AND THE PHILADELPHIA SPIRIT ON THURSDAY, JULY 16, BEACON EXTREME WHITE AND SMITHFIELD STORM (BOYD) ON FRIDAY, JULY 17 AND DUCHESS DEBS AND BLUE THUNDER ON SATURDAY.
IN SUNDAY'S CHAMPIONSHIP ROUND, STING GOLD TOOK OUT SMITHFIELD STORM (ROUMELIS) IN THE QUARTERFINALS AND CENTRAL MASS VOODOO IN THE SEMIFINALS, ONLY TO LOSE TO SMITHFIELD STORM (BOYD) IN THE FINALS, FOR AN IMPRESSIVE RUNNER UP FINISH.
WE ARE VERY PROUD TO REPORT THAT THE UMPIRES AWARDED COACH SENERCHIA AND STING GOLD THE TOURNAMENT SPORTSMANSHIP AWARD AND SHORTSTOP LEXI FALCIONI WAS AWARDED TOURNAMENT DEFENSIVE MVP.
PICTURED ABOVE SPORTING THEIR CHAMPIONSHIP RINGS ARE (KNEELING FROM LEFT) GABBY BIGIO, ALAYNA MARIANI, ADDIE SMITH, NATALIA LUCIBELLO, GABI SENERCHIA, ADRIANA HILLS AND KILEY MULLINS.  (STANDING FROM LEFT) ALEX BACHER, EMMA BAYOR, MORGAN MODINE AND LEXI FALCIONI.  AT RIGHT, COACH RUSS SENERCHIA AND LEXI FALCIONI HOLDING HER DEFENSIVE MVP AWARD.
JULY 11 – 12
STING 18U WINS IN EAST HARTFORD WITH PERFECT 4 – 0 WEEKEND
STING 18U

TOOK THE CHAMPIONSHIP CUP IN THE ELITE SPORTS TOURNAMENT IN EAST HARTFORD, CT.  THEY

DEFEATED "BOBBY VALENTINES" TITANS 3-0 IN A HARD FOUGHT SATURDAY OPENER, BEHIND
BAILEY COMEAU'S

SHUT OUT GEM.  THE BATS EXPLODED IN SATURDAY'S GAME TWO WITH A 16-2 WIN VS XTREME CHAOS. 

RACHEL MILLER

GOT THE WIN. 

COMEAU

WON A TOUGH SUNDAY GAME AGAINST THE CENTRAL MASS VOODOO.  IT WAS

MILLER

AGAIN IN THE SUNDAY'S "RUN LIMIT" FINALE VS BNB ROX 12-2. 

CAMARYN REYNOLDS

LED THE RUN PRODUCTION WITH EIGHT RBIS ON THE WEEKEND.

STING 18U

PICTURED ABOVE (SITTING FROM LEFT)

BRENNA COMEAU

,

JILL BATICK

,

JAELYNN POTTER

(WITH TROPHY),

JULIE VINCENT

,

RACHEL MILLER

,

CHEYENNE

ZVINGALAS

,

HAILEY HILL

,

ALEX BURDICK

.  (STANDING FROM LEFT)

BAILEY COMEAU

,

CAMARYN REYNOLDS

AND COACHES,

BRUCE MILLER

,

KATHY

BURDICK

,

ED HOBSON

AND

AARON BURDICK

.  (MISSING ARE

MacKENZIE PETERS

AND

TAYLOR MYERS

)
JULY 3 – 5
STING 18U AND 14U GOLD SPARKLE IN MERIDEN
AFTER A FRIDAY NIGHT RAIN OUT, STING 18U, ONCE AGAIN SWEPT THE FIELD IN MERIDEN, CT AT THE SPARTAN SPECTACULAR.  MACKENZIE PETERS, BAILEY COMEAU AND RACHEL MILLER WON THEIR GAMES IN THE CIRCLE.  PETERS WAS A PERFECT 8-8 AT THE PLATE IN THE EVENT.
12U GOLD PLAYED "UP" IN THEIR FIRST 14U EVENT.  ON SATURDAY, COACH DURKIN'S TEAM, SWEPT THE HOST 14U CT HURRICANES 10-1 AND 15-0 IN A DOUBLEHEADER.  CHRISTINA ANIERO WON THE OPENER, YIELDING ONLY ONE RUN.  KYRA MANNING AND ERIN CERNEY COMBINED FOR THE SHUT OUT IN THE NIGHTCAP.
S

T

I

N

G

1

4

U

B

L

U

E

T

A

K

E

JU

L

Y

4

T

H

T

R

I

P

T

O

H

E

R

S

H

E

Y

,

P

A
PICTURED ABOVE,
STING 14U BLUE

IN PALMYRA, PA.  FROM FRONT LEFT HAILEY CHRISTENSEN, JENNA SCHAUDER, AVERY STADLER, EMMA GETROST, MELANIE MARTIN, ANNA SOLIWODA, ALYSSA MAIKOWSKI, COURTNEY VAUSE, SADIE IOZZIA, TAYLOR FERRIALO, JENNY CRETELLA,  JAMIE BUCIOR, NINA DEMENNATO.  COACHES IN REAR FROM LEFT, DAN MARSH, MIKE BUCIOR, KATIE HOBSON.
JULY 2, 2020 – CVFL……….
STING 10U SWEEPS THUNDER
OUR YOUNGEST GROUP,

STING 10U

, DEFEATED THE SOUTHINGTON THUNDER  10-7 AND 9-5 IN CONNECTICUT VALLEY FASTPITCH LEAGUE DOUBLEHEADER ACTION ON THURSDAY, JULY 2. 
IN GAME #1, STING'S SARAH O'BRIEN BROKE OPEN A 5-5 TIE IN THE BOTTOM OF THE THIRD WITH AN RBI DOUBLE.  STING HELD THE LEAD THROUGHOUT.  BRIANNA PALMESE GOT THE WIN IN THE CIRCLE.  IN GAME #2, THE THUNDER SCORED FIVE RUNS IN THE FIRST INNING, BUT 10U STING FOUGHT TO CATCH UP THROUGHOUT AND TOOK THE VICTORY 9-5.

JUNE 24, 2020 – CVFL
……….
STING 12U BLUE BEATS WALLINGFORD WITH PITCHING GEM
STING 12U BLUE (11 YEAR OLDS)

OPENED THEIR CVFL SEASON WITH AN AMAZING SHARED PERFORMANCE IN THE CIRCLE. 

LAUREN VITARISI

AND

ADRIENNE FROST

LED THEIR TEAM TO A 1-0 SHUT OUT WIN VS THE WALLINGFORD CARDINALS AT PRAGEMANN PARK, WALLINGFORD.  OUR PAIR OF YOUNG PITCHING ACES COMBINED FOR 16 STRIKE OUTS IN THE EFFORT.
JUNE 20 & 21, 2020……….
OFF WITH A BANG!!!
PICTURED RIGHT,

STING 14U GOLD

SHORTSTOP, ALEXA FALCIONI RECEIVES A THROW AND PREPARES TO TAG A RUNNER OUT AT SECOND IN ACTION AT FASTPITCH NATION, WINDSOR. 
PICTURED BELOW,

STING 16U GOLD

,

EMILEY WILSON

LAYS OUT TO SNAG A LINE DRIVE AT THIRD BASE AT "CT TIGER'S SUMMER SLAM" IN MERIDEN.  COACH GAGE'S TEAM SPLIT THEIR FOUR-GAME WEEKEND. 
ALL OF THE GAMES OVER THE WEEKEND WERE PLAYED AS "EVENTS", AS OPPOSED TO A TOURNAMENT FORMAT. 
STING 18U

BESTED EVERYONE IN THE FIELD AND FINISHED THE "SUMMER SLAM" IN MERIDEN UNDEFEATED! 

16U BLUE

EXCELLED IN EAST HARTFORD, ENDING 3-1 AGAINST A VERY COMPETITIVE FIELD.  MOST IMPRESSIVELY,

STING 14U GOLD

PLAYED UP IN THE

16U BRACKET

AT FASTPITCH NATION'S OPENER IN WINDSOR.  COACH SENERCHIA'S TEAM FINISHED 3-1 AGAINST THE OLDER COMPETITION. 

STING

14U BLUE

WENT .500 IN FRANKLIN, FINISHING 2-2 IN THE FATHER'S DAY SLUGFEST. 

STING 10U

AND

STING

12U BLUE

FINISHED 2-2 AND 1-3, RESPECTIVELY IN CHESHIRE.  MOST TEAMS WILL BE IN ACTION, BEGINNING FRIDAY, JUNE 26.
RACHEL MILLER COMMITS TO SCSU……….
AFTER EVALUATING OFFERS FROM SCORES OF SCHOOLS, 18U STANDOUT PITCHER RACHEL MILLER HAS SIGNED TO PLAY IN HER OWN BACKYARD FOR DII
SOUTHERN CONNECTICUT STATE UNIVERSITY IN NEW HAVEN.
RACHEL WAS A DYNAMIC FORCE IN THE CIRCLE FOR STING 18U IN 2019, WITH A RECORD OF 18-10, WITH 90 STRIKE OUTS AND AN ERA OF 3.16.  (RACHEL WON 2019 TOURNAMENT CHAMPIONSHIP GAMES AT "WAVES SUMMER SLAM" IN RHODE ISLAND AND THE "CHAMPIONS" NATIONAL EVENT IN OSWEGO, NY)  AT THE PLATE, SHE HIT .408 (.457 OBP, .536 SLUGGING).  RACHEL PLAYED AN INTEGRAL PART IN WATERFORD HIGH SCHOOL'S 2019 CLASS M STATE CHAMPIONSHIP SEASON.
AT SCSU, MILLER WILL BE PLAYING FOR COACH JILLIAN RISPOLI AND PITCHING COACH CHRISTINE AKCER, A LONG-TIME SHORELINE STING VETERAN. 
RACHEL WILL PURSUE A DEGREE IN EDUCATION AT SCSU AND LOOKS FORWARD TO A GREAT CAREER WITH THE OWLS.  WE ALL WISH HER MUCH SUCCESS.
THE TEAM CELEBRATES RACHEL'S HOME RUN BLAST IN THE FINAL TOURNAMENT EVENT OF 2019.
STING DOMINATES USM GAMES
ON SUNDAY, MARCH 8, STING 16U GOLD (WITH A LITTLE HELP FROM 18U AND 14U BLUE) SOUNDLY WHIPPED ALL OF THEIR OPPONENTS AT THE UNIVERSITY OF SOUTHERN MAINE 18U GAMES IN GORHAM, ME.  STING OPENED WITH A 4-0 WIN VS. THE POWERFUL SOUTHERN MAINE RIVER RATS (18U), BEHIND A SHUT OUT BY 18U PITCHER, RACHEL MILLER.  IN GAME TWO, 16U GOLD PITCHER VICTORIA GAGE WAS ON FIRE IN THE CIRCLE, THROWING AN 11-0 SHUTOUT VS. NH COMETS RED (16U).  IN THE FINAL TILT, CHRISTINA LOMBARDI, WITH HELP FROM MILLER, BEAT THE NH COMETS (16U) 5 – 2.  THE HITTERS CRUSHED THE BALL ALL DAY.  PICTURED ABOVE, BACK ROW FROM LEFT:  JAMIE BUCIOR (14U BLUE), JAELYNN POTTER (18U), RACHEL MILLER (18U), PAYTON LOWE, HENDRIX KRUSZEWSKI, VIVIAN PARADIS.  FRONT FROM LEFT:  EMILEY WILSON, MEGAN HART, VICTORIA GAGE, GRACE LATHROP.
12U GOLD AT ST. JOSEPH COLLEGE SOFTBALL CLINIC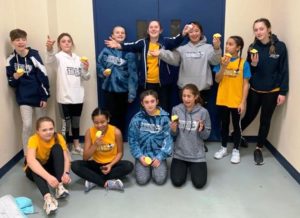 COACH DURKIN'S

12U GOLD TEAM

PARTICIPATED IN THE ST. JOSEPH COLLEGE SKILLS CLINIC ON SATURDAY, FEBRUARY 22 IN WEST HARTFORD.  AFTER THE CLINIC, THE TEAM ATTENDED THE HARTFORD WOLFPACK HOCKEY GAME.  BETWEEN THE CLINIC AND THE GAME, THE TEAM ENJOYS CUPCAKES.  PICTURED ARE:  STANDING FROM LEFT:  ERIN CERNEY, KALEIGH DURKIN, MAKALA ANDERSON, McKAYLA GREENWOOD, CHRISTINA ANEIRO, MIA STARLING, KYRA MANNING.  KNEELING FROM LEFT:  ABBY YOUNG, ANAI ALVAREZ, AVA RYSCZCZK, LILY ARDITO (WHO DOES NOT SEEM TO BE ENJOYING HERS)
---
HAILEY HILL TO PLAY AT MITCHELL COLLEGE
STING 18U INFIELDER, PITCHER AND UTILITY PLAYER, HAILEY HILL, HAS AGREED TO PLAY FOR MITCHELL COLLEGE IN NEW LONDON, CT, COMMENCING IN
THE 2021 SEASON.  MARINER HEAD COACH, ERIN MILLER IS VERY PLEASED TO HAVE HAILEY ON HER 2021 ROSTER.  AT GRISWOLD HIGH SCHOOL, HAILEY HAS STARTED AT THIRD BASE SINCE HER SOPHOMORE YEAR.  SHE ALSO LETTERED IN VOLLEYBALL IN THE FALL.  HAILEY CAN LEGITIMATELY PLAY EVERY POSITION ON THE FIELD, EXCEPT FOR CATCHER, AND WILL PROBABLY HAVE AN OPPORTUNITY TO PLAY ALL EIGHT DURING HER 2020 SUMMER SEASON WITH STING 18U.  SPEED AND VERSATILITY ARE HER GREATEST ASSETS.
"WE ARE VERY EXCITED TO HAVE HAILEY JOIN THE MITCHELL SOFTBALL PROGRAM IN THE UPCOMING YEAR".  SAID MILLER.  "SHE HAS FIT IN EFFORTLESSLY WITH OUR TEAM AND I THINK HER LOVE OF SOFTBALL AND COMMITMENT TO HER EDUCATION WILL ALLOW HER TO BE SUCCESSFUL HERE.  WE CANNOT WAIT TO HAVE HER AND HER FAMILY BE A PART OF OUR PROGRAM.  GO MARINERS!"
HAILEY WILL GRADUATE WITH HIGH HONORS FROM GRISWOLD HIGH SCHOOL IN THE SPRING.  SHE INTENDS TO PURSUE A DEGREE IN CRIMINAL JUSTICE / LAW ENFORCEMENT AT MITCHELL.  WE ALL WISH HAILEY SUCCESS IN HER ACADEMIC AND ATHLETIC PURSUITS THROUGHOUT HER COLLEGIATE CAREER.
STING 18U REYNOLDS SIGNS WITH RWU
ITS OFFICIAL!  STING 18U STANDOUT OUTFIELDER, CAMARYN REYNOLDS HAS SIGNED A PLAYING AGREEMENT WITH ROGER WILLIAMS UNIVERSITY IN BRISTOL, RI., COMMENCING IN THE 2021 SEASON.  CAMI PLAYED IN 52 GAMES IN SUMMER 2019, HITTING .350, WITH NINE EXTRA BASE HITS.  LAST YEAR AS A JUNIOR AT HAMDEN HIGH SCHOOL, SHE WAS SELECTED AS AN ALL-SCC CONFERENCE OUTFIELDER.  CAMI IS LOOKING FORWARD TO PLAYING HER SENIOR YEAR AT HAMDEN, BEGINNING IN APRIL, 2020 AND HER STING TRAVEL TOURNAMENT SEASON, BEGINNING IN JUNE.  SHE WILL BE FINISHING UP HER ACADEMIC CAREER AT HAMDEN AS A HIGH HONOR STUDENT.
CAMI WAS RECRUITED BY RWU AT 2019 SHOWCASE EVENTS IN LONDONDERRY, NH, SWANSEA, MA AND PROVIDENCE, RI, WHERE SHE EXCELLED IN EVERY TOURNAMENT GAME.  RWU HEAD COACH, JOYCE MAUDIE SAYS, "SHE IS VERY HAPPY TO HAVE CAMI JOIN THEIR ROSTER."  CAMI WILL BE JOINING RWU STING VETERANS ALEX BURDICK AND TAYLOR MYERS ON THE ROGER WILLIAMS ROSTER.  HARD WORK PAYS OFF AND WE ALL WISH CAMI WELL IN HER ACADEMIC AND ATHLETIC PURSUITS.
STING 14U TEAMS BOTH PLAY AT ADIRONDACK DOME
14U GOLD FINISHES RUNNER UP IN ADIRONDACK WINTER BLAST

PICTURED ABOVE, 14U GOLD 2020 WINTER BLAST RUNNERS UP:  SITTING FROM LEFT, KILEY MULLINS, NATALIA LUCIBELLO, ADDIE SMITH, GABI SENERCHIA, ALEXA FALCIONI, ADRIANA HILLS.  STANDING FROM LEFT, MORGAN MODINE, EMMA BAYOR, ALAYNA MARIANI AND ALEXANDRA BACHER.  (MISSING IS GABBY BIGIO.)
ON SATURDAY AND SUNDAY, JANUARY, 25 & 26, 2020, BOTH STING TEAMS PLAYED IN THE WINTER BLAST EVENT AT THE ADIRONDACK DOME IN QUEENSBURY, NY. 
STING BLUE

WON THEIR OPENER VS. THE WESTCHESTER HEAT (NY) 10-2, BEHIND PITCHER JAMIE BUCIOR. 

STING GOLD

FINISHED SATURDAY'S POOL ROUND 2-1, HIGHLIGHTED BY TWO HOME RUNS FROM NATALIA LUCIBELLO AND ONE FROM ADDIE SMITH.
SUNDAY'S CHAMPIONSHIP ROUND OPENED WITH A STING VS. STING CONTEST, WITH
STING GOLD

WINNING BEHIND EMMA BAYOR IN THE CIRCLE.  EMMA PITCHED A SHUTOUT AND PUNCTUATED THE PERFORMANCE WITH A MONSTER HOME RUN TO RIGHT CENTER FIELD.  COACH SENERCHIA'S TEAM WENT ON TO WIN THE QUARTERFINALS VS. THE EMPIRE STATE HUSKIES (HOTLE) (NY) AND THE SEMIFINALS VS. THE NY DIAMOND GIRLS.  BOTH SUNDAY WINS WERE CREDITED TO ALEXANDRA BACHER IN THE CIRCLE.  BAYOR, ALEXA FALCIONI AND MORGAN MODINE ADDED SUNDAY HOME RUNS. 

14U GOLD

LOST IN THE THE FINALS TO THE VERY TOUGH EMPIRE STATE HUSKIES (CORBIN) (NY), FINISHING RUNNERS UP IN THE VERY COMPETITIVE 16 TEAM FIELD.
STING 2019 FALL SEASON ENDS WITH PLAYOFF CHAMPIONSHIPS
RACCOONS – MIDDLE SCHOOL CHAMPIONS

ANAPHYLAXIS – HIGH SCHOOL CHAMPIONS
---
---