---
UPCOMING NEWS & GAMES

SATURDAY, JUNE 30, 2018

14U GOLD IN USSSA FIRECRACKER ON THE FOURTH (16U) IN EAST HARTFORD, CT

8:00 VS BREWSTER ROCKETS BLUE AT PRATT & WHITNEY #3

9:35 VS DIAMOND CLUB BLACK AT PRATT & WHITNEY #3

2:20 VS TRI-COUNTY THUNDER AT PRATT & WHITNEY #3

14U BLUE IN USSSA FIRECRACKER ON THE FOURTH IN EAST HARTFORD, CT

8:00 VS RIDGEFIELD REBELS (PETE) AT McAULIFFE PARK #1

9:30 VS TEAM NITRO (LI)'04 AT McAULIFFE PARK #1


12:30 VS ULSTER FILLIES AT AT McAULIFFE PARK #1

14U WHITE IN CGSL JUNE TOURNAMENT IN COVENTRY, RI

GAME SCHEDULE TBD


16U IN USSSA FIRECRACKER ON THE FOURTH IN EAST HARTFORD, CT

8:00 VS CT LADY KNIGHTS BLACK AT PRATT & WHITNEY FIELD #6


9:35 VS TEAM TEAM CT AT PRATT & WHITNEY #6


12:30 VS TEAM NITRO (LI) '03 AT AT PRATT & WHITNEY #7

18U IN USSSA FIRECRACKER ON THE FOURTH IN EAST HARTFORD, CT

8:00 VS CT LADY KNIGHTS  AT McAULIFFE PARK #2


11:00 VS MANHATTAN MAYHEM AT McAULIFFE PARK #2


12:30 VS LADY WILDCAT PREMIER (MA) AT AT McAULIFFE PARK #2

3:30 VS LONG ISLAND REBELS AT McAULIFFE PARK #2

---

SUNDAY, JULY 1, 2018

14U GOLD IN USSSA FIRECRACKER ON THE FOURTH (16U) IN EAST HARTFORD, CT

12:30 VS TEAM LI 2022 AT McAULIFFE PARK #2

3:30 VS BREWSTER ROCKETS RED AT McAULIFFE PARK #2


5:00 VS MWS ELITE AT McAULIFFE PARK #2


14U BLUE IN USSSA FIRECRACKER ON THE FOURTH IN EAST HARTFORD, CT

12:45 VS CT BOMBERS WHITE AT PRATT & WHITNEY #2


3:55 VS ELIMINATORS FUTURES AT PRATT & WHITNEY #2


5:30 VS BREWSTER ROCKETS AT AT PRATT & WHITNEY #7


14U WHITE IN CGSL JUNE TOURNAMENT IN COVENTRY, RI

CHAMPIONSHIP SCHEDULE BASED ON SATURDAY'S POOL RESULTS


16U IN USSSA FIRECRACKER ON THE FOURTH IN EAST HARTFORD, CT

12:30 VS STEEL SPORTS ACADEMY NATIONALS AT McAULIFFE PARK #4


3:30 VS LONG ISLAND EXPRESS EAST AT McAULIFFE PARK #4


5:00 VS BREWSTER ROCKETS RED AT AT McAULIFFE PARK #4

18U IN USSSA FIRECRACKER ON THE FOURTH IN EAST HARTFORD, CT

9:35 VS WARNING TRACK HEAT AT PRATT & WHITNEY #5


12:45 VS WESTERN MASS WARRIORS AT PRATT & WHITNEY #6


3:55 VS RAWLINGS WILDCATS '02 AT PRATT & WHITNEY #5


---

MONDAY, JULY 2, 2018

CHAMPIONSHIP ROUNDS FOR ALL TEAMS IN USSSA FIRECRACKER ON THE FOURTH

---

WEDNESDAY, JULY 4, 2018

H

A

P

P

Y

B

I

R

T

H

D

A

Y

U

S

A

 

 

 

ED HOBSON – DIRECTOR

65 ORCUTT DRIVE

GUILFORD, CT 06437

(203) 530-3964

hobson01@comcast.net
---
JUNE 16 & 17……….WATERTOWN RAPIDS EVENT HOSTS 16U & 18U
STING 18'S WIN FIVE AND FINISH SECOND IN 14 TEAM FIELD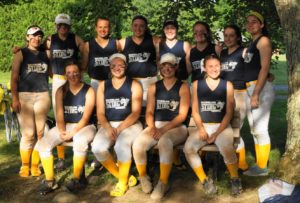 STING 18U

ENTERED SUNDAY AS A FOUR-SEED OUT OF 14 TEAMS COMPETING IN

GROWS/RAPIDS SUMMER SWING IN WATERTOWN, CT.

  THE 18'S BEGAN THE DAY DEFEATING THE CT BULLETS RED BEHIND TAYLOR MYERS IN THE CIRCLE.  PITCHER ISABEL SICILIANO TOOK CONTROL OF THE NEXT TWO GAMES, BEATING THE CT SEAHAWKS AND AVENGING A SATURDAY LOSS VS. RIDGEFIELD REBELS.  THE GAME WAS PUNCTUATED BY A SOLO HOME RUN BY EMILY NELSON AND A DIVING CATCH AND SNAP THROW TO FIRST BY RIGHT-FIELDER ANNIKA RYER, TO DOUBLE THE RUNNER AND END THE SEMI-FINAL GAME WITH A CRUCIAL DOUBLE PLAY.  UNFORTUNATELY, THE 18'S RAN OUT OF GAS IN THE FOURTH SUNDAY GAME, DROPPING A ONE-RUN CONTEST TO LADY KNIGHTS BLACK.  SICILIANO AND NELSON WERE WINNING PITCHERS ON SATURDAY, WITH OUT-OF-THE-PARK BLASTS BY SICILIANO AND CAITIE CASEY-LEONARD.  PICTURED ABOVE: (STANDING FROM LEFT) BRIANA BEVERLY, GRACE KUCK, HANNAH LEMKE, SICILIANO, CASEY-LEONARD, MEGHAN GILLIS, ALYSSIA JONES AND RYER.  SEATED (FROM LEFT) ALEX BURDICK, MYERS, NELSON AND NIKKI MARSH.

THE TEAM HEADS TO HAGERSTOWN, MD ON THURSDAY, JUNE 21 TO COMPETE IN THE FIRECRACKER COLLEGE SHOWCASE.
---
STING 16U CELEBRATES FATHER'S DAY IN WATERTOWN
COACH AIKEN'S

STING 16U

TEAM CELEBRATES FATHER'S DAY (GIRLS PICTURED WITH THEIR SUPPORTIVE DADS) AT THE GROWS/RAPIDS EVENT IN WATERTOWN ON SUNDAY, JUNE 17.  THE 16'S FINISHED WITH A PERFECT 3-0 RECORD ON SATURDAY, GAINING A #2 SEED, BUT LOST IN THE SEMI-FINALS.
---
JUNE 9 & 10……….WHAT A WEEKEND!  TWO WINS IN EAST HARTFORD AND RUNNERS-UP IN MASS……….
14U GOLD DOMINATES 16U DIVISION IN USSSA "BRING THE HEAT"
EAST HARTFORD:  STING 14U GOLD MOVED UP TO PLAY WITH THE "BIG GIRLS" IN THEIR TRUE SUMMER OPENER IN EAST HARTFORD AND WOUND UP WITH A 3-0 SATURDAY, A 3-0 SUNDAY AND A TOURNAMENT CHAMPIONSHIP.  STING KNOCKED OFF THE CAPITAL REGION REIGN (NY) 10-0 IN THE FINAL, BEHIND FIREBALLER, KELLY PRITCHARD IN THE CIRCLE.  OTHER PITCHERS, TORI HEAPHY AND ERICA PIERCEY JOINED WITH PRITCHARD TO GIVE UP ONLY FOUR RUNS TOTAL THROUGHOUT THE ENTIRE WEEKEND.  PICTURED ABOVE ARE "BRING THE HEAT" 16U CHAMPS:  (STANDING FROM LEFT) COACH CHRIS PIERCEY, SOPHIA ANASTASIO, KAYLA GOODRICH, KELLY PRITCHARD, TORI HEAPHY, JADA MICONI, JILLIAN BATICK, JORDAN CHAMBERLAIN, COACH RUSS  SENERCHIA.  KNEELING (FROM LEFT) KAYLA ROSARIO, HANNA SENERCHIA, ERICA PIERCEY.  (NOT PICTURED: ABBY CODY, GRACE HARTMANN, MAIRAID "RAIDER" AIKEN.

---
STING 14U BLUE WINS CHAMPIONSHIP IN EAST HARTFORD
STING 14U BLUE GOT OFF TO A ROCKY START IN "BRING THE HEAT" I4U BRACKET, BUT RIGHTED THE SHIP AND FINISHED WITH A 2-1 SATURDAY AND CLEANED UP ON SUNDAY, WINNING ALL THREE GAMES AND THE CHAMPIONSHIP.  ALL THREE PITCHERS, BELLA HILLS, ERIN DONLAN AND EMA SIGNORE WERE PROLIFIC ALL WEEKEND, IN CONTROLLING THE COMPETITION.  MAGDALENA BARTHEL WENT "YARD" ON SUNDAY AND RYEN WOLCHESKI CAME CLOSE TWICE.  STING BEAT THE CT TIGERS 13-3 IN THE FINALS.  PICTURED ABOVE ARE: (STANDING FROM LEFT) ALEX DUVAL, LAUREN ACKERMANN, MAISSA CASO, ALLIE PETONITO, RYEN WOLCHESKI, BELLA HILLS, ERIN DONLAN.  (KNEELING IN FRONT FROM LEFT):  SOPHIA OUELLET, EMA SIGNORE, MIA DELOUGHERY, MAGDALENA BARTHEL.
STING 12U GOLD RUNNERS UP IN STERLING, MASS
A 3-0 SATURDAY AND #1 SEED WAS TRULY RAREFIED AIR FOR STING 12U GOLD.  THE TEAM HAS HAD LIMITED SUCCESS, BUT IS GETTING BETTER EVERY WEEK.  THEY MANAGED TO WIN THEIR FIRST TWO SUNDAY GAMES, UNTIL LOSING IN THE FINALS, FINISHING RUNNERS-UP IN USA SOFTBALL'S "BATTLE IN THE HIVE".  PITCHERS KACEY EDWARDS AND ADRIANA PIASCIK LED THE WAY IN THE CIRCLE.  A 5-1 RECORD MADE THE SUMMER WEEKEND DRIVE TO MASS MUCH MORE PLEASANT.  PICTURED ABOVE ARE (TOP FROM LEFT) SYDNEY ROBBINS, COACH MINETTA MURRETT, ADRIANA PIASCIK, KELSIE PIELA, SOPHIA STANGER, SAMI GREEN, KACEY EDWARDS.  (BOTTOM FROM LEFT):  COURTNEY VAUSE, RUBI ESPEJO, ANNE PLUNKETT, LINDSEY ONOFRIO, COACH KATIE HOBSON, COACH KELLEY EDWARDS, (NOT PICTURED, OLIVIA SCHOFIELD).

STING 14U WHITE OPENS SEASON WITH EXCELLENCE IN NEW HAMPSHIRE
STING 14U WHITE OPENED THEIR 2018 SEASON IN LAKE CANOBIE, NEW HAMPSHIRE ON JUNE 2 AND 3 WITH A #1 SATURDAY SEED, FINISHING 3-0, WITH ONLY TWO RUNS SURRENDERED.  THEY WON THEIR OPENER ON SUNDAY, BUT UNFORTUNATELY LOST IN THE QUARTER FINALS TO THE EVENTUAL TOURNAMENT WINNER.  COACH GAGE'S TEAM IS COMPRISED OF RETURNING PLAYERS FROM 2017 STING 14U WHITE AND NEW PLAYERS SIGNED LAST SUMMER AND FALL.  THEY FINISHED 4-1 OVERALL IN THEIR INAUGURAL 2018 OUTING.  PICTURED BELOW (FROM LEFT) COLLEEN EDWARDS, SARA COLEY AND VICTORIA GAGE LISTEN TO THE UMPIRES PRE-GAME INSTRUCTIONS.  FARTHER BELOW (FROM LEFT) CATCHER EMILEY WILSON RECEIVES AND PREPARES TO THROW.  (ON THE RIGHT) SAM FRANCESCHI BLOCKS SECOND BASE AND APPLIES THE TAG.
 
---
STING PLAYERS HONOR CAPTAIN
AFTER THEIR LAST GAME, ELIOT MS, CLINTON, CAPTAIN
ALEX DUVAL (STING 14U BLUE)

(PICTURED FAR LEFT) IS HONORED BY HER ELIOT 7TH GRADE AND STING 12U GOLD TEAMMATES (FROM LEFT) SYDNEY ROBISON, KACEY EDWARDS AND COURTNEY VAUSE.
THINK PINK!
BOTH STING 12U GOLD AND

12U BLUE

TEAMS BOTH DONNED

PINK

IN SUPPORT OF CANCER RESEARCH AND PREVENTION AT THE

STRIKE-OUT CANCER

CHARITY EVENT

.  ON SATURDAY, THEY ARE PICTURED ABOVE.  THE TWO TEAMS MET ON SUNDAY AND PLAYED NECK-AND-NECK THROUGH THE INTERNATIONAL TIE-BREAKER, WITH

12U BLUE

PREVAILING 3-2.
---
14U BLUE (13 YEAR-OLD COMBO TEAM) NETS EARLY USSSA SEASON SUCCESS
WITH HIGH SCHOOL PLAYERS PROHIBITED FROM TRAVEL PLAY, COACH HILLS ROSTERED ALL 13 YEAR-OLDS FOR THIS SPECIAL 14U TEAM.  THE TEAM PLAYED IN FOUR USSSA EVENTS, FINISHING RUNNERS-UP IN THREE.  THE TEAM IS PICTURED ABOVE: (STANDING FROM LEFT) ALLIE PETONITO, LENA BARTHEL, "QUEEN" VICTORIA GAGE, KENDALL LAMORTE, LAUREN ACKERMANN, MAISSA CASO.   (KNEELING FROM LEFT) ALEX DUVAL, RYEN WOLCHESKI, BELLA HILLS AND HANNA SENERCHIA.
---
STING PLAYERS MEET IN HIGH SCHOOL PLAY
STING 18U

STANDOUTS: GRACE KUCK (DANIEL HAND HS) ABOVE LEFT & TAYLOR MYERS (EAST HAVEN HS) RIGHT.  EAST HAVEN UPSET POWERFUL DANIEL HAND 7-1, BEHIND TAYLOR'S NEAR SHUT OUT.  HAND'S LONE RUN CAME ON GRACE'S SOLO SHOT OVER THE LEFT/CENTER FENCE IN THE LAST INNING.  THE PAIR FOUND A FRIEND, WHO APPEARS IN BETWEEN THEM.
---

EARLIER IN THE SEASON, NFA AND EAST LYME MET IN AN ECC BATTLE. 
STING 18U

PLAYERS (FROM LEFT ABOVE) NIKKI MARSH (EAST LYME), JULIE VINCENT (NFA), ISABEL SICILIANO (EAST LYME), ALEX BURDICK (NFA)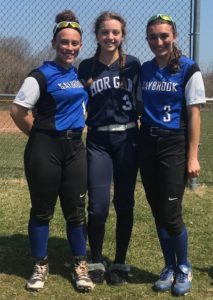 STING 14U WHITE PLAYERS (FROM LEFT ABOVE): EMILEY WILSON (OLD SAYBROOK HS), COLLEEN EDWARDS (MORGAN HS), CHRISTINA LOMBARDI (OLD SAYBROOK HS) MEET AFTER THEIR GAME.
---
OFF-SEASON OUTING
ON SATURDAY, FEBRUARY 3, MEMBERS OF STING 12U BLUE, 14U GOLD AND 14U BLUE ATTENDED A ST. JOSEPH COLLEGE CLINIC AND ATTENDED A HARTFORD WOLFPACK HOCKEY GAME.  A GOOD TIME WAS HAD BY ALL.
---
COACH EZELL INDUCTED INTO MADISON SPORTS HALL OF FAME
ON THURSDAY, OCTOBER 5, SHORELINE STING FOUNDER, DIRECTOR OF STING FALL SOFTBALL AND FORMER DANIEL HAND  COACH RAY EZELL WAS INDUCTED INTO THE MADISON SPORTS FALL OF FAME. RAY COACHED THE HAND TIGERS FOR 18 YEARS.  DURING HIS TENURE AT HAND, HE WON NINE DIVISION TITLES, PLAYED IN FIVE "FINAL FOURS" AND WON THE CIAC CLASS "L" TITLE IN 2001.  RAY BEGAN SHORELINE STING SOFTBALL IN 1992.
HIS HONOR WAS MADE ALL THAT MORE SPECIAL, BECAUSE DANIEL HAND ALL-STATE PITCHER AND STING ALUMNI, CAITLIN EICHLER WAS INDUCTED INTO THE HALL OF FAME WITH HIM THURSDAY.  RAY RETIRED FROM TEACHING AND HE AND WIFE GEORGETTE LIVE IN PANAMA CITY BEACH FLORIDA.  HE STILL STAYS VERY ACTIVE IN THE SOFTBALL WORLD, COACHING HIGH SCHOOL AND TRAVEL BALL IN FLORIDA AND DIRECTING OUR FALL SOFTBALL PROGRAM.  WE ALL WISH RAY CONGRATULATIONS ON HIS VERY SPECIAL AND WELL DESERVED HONOR.
---
STING 12U GOLD & BLUE SCRIMMAGE IN NORTH BRANFORD
---
ALL NEW 10U TEAM COMPETING IN SOUTHINGTON FALL LEAGUE

PICTURED FROM LEFT:  KALEIGH DURKIN, ELLA MUNSON, ANAI ALVEREZ, ALIA MARTONE, ALIVIA SCHMIDT, LILY ARDITO, LAUREN VITARISI, AVA RYSCYK, CHRISTINA ANEIRO, JULIANNA ONOFRIO, GIOIA SEGUI.
---
SKIING IN JULY & AUGUST……….PICTURED BELOW, OUR OWN MEGHAN GILLIS (
2018 – STING 18U

) WAS HONORED WITH A SPOT ON THE US JUNIOR NATIONAL SKI TEAM AND TRAVELED BELOW THE EQUATOR TO NEW ZEALAND TO COMPETE IN JULY AND AUGUST, 2017.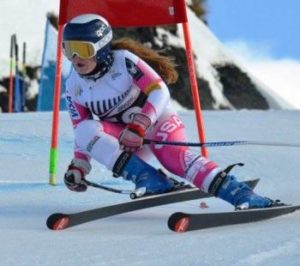 ---
AUGUST 5 & 6……….SWANSEA XTREME INVITATIONAL
STING 16U HAS MEMORABLE WEEK IN SWANSEA, MA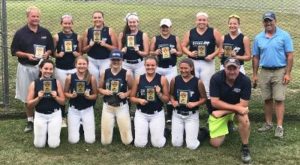 STING 16U

ENDED THEIR 2017 SEASON ON A HIGH NOTE, FINISHING RUNNERS-UP IN A HIGHLY COMPETITIVE 12 TEAM FIELD AT THE SWANSEA XTREME INVITATIONAL IN SWANSEA, MA.  THEY WON THEIR FIRST FOUR GAMES, BUT UNFORTUNATELY DROPPED THE CHAMPIONSHIP GAME TO THE POWERFUL HOST SWANSEA XTREME.  THE TEAM, LARGELY IN TACT, WILL BE MOVING UP TO 18U NEXT SEASON.  PICTURED ABOVE ARE, STANDING (FROM LEFT) COACH ED HOBSON, BRI BEVERLY, JESS SMITH, CAITIE CASEY-LEONARD, ALYSSIA (AJ) JONES, ISABEL SICILIANO, JULIE VINCENT, COACH ERIC BEVERLY.  KNEELING IN FRONT ARE BELLA LLANO, NIKKI MARSH, GRACE KUCK, TAYLOR MYERS, JILL BATICK AND COACH DAN MARSH.  MISSING:  MEGHAN GILLIS.
JULY, 29 & 30……….STINGER X WEEK
STING VS. STING ON POOL PLAY SATURDAY
AN UNUSUAL SATURDAY MEETING OF
STING'S

2017 – 12U & THE INCOMING 2018 – 12U BLUE IN THE SATURDAY POOL PLAY ROUND AT GUILFORD LAKES SCHOOL  THE TWO STING TEAMS TIED 6-6.  PICTURED COACH RUSS SENERCHIA AND KATIE HOBSON MEET AT HOME PLATE PRIOR TO THE FIRST PITCH.  SEE BELOW FOR TOURNAMENT RESULTS

SHORELINE STINGER X RESULTS
CLICK ON THE PINK LINK TO GET YOUR INFORMATION
---
JULY 22 & 23……….
STING 12U

ENJOYS A ROAD TRIP TO MASSACHUSETTS AND A BIG SUNDAY WIN!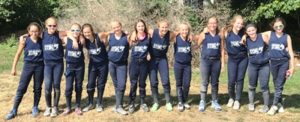 STING 12U

FROM LEFT:  GENELISSE COSTA, KARLY SORRENTINO, CARLY BRASKY, ADRIANA PIASCIK, KACEY EDWARDS, OLIVIA SCHOFIELD, GIANNA MICHAELS, LILY PERRY, HANNAH BURROWS, SIMONE CAPPON, AVA SINGLETON, JULIA SMITH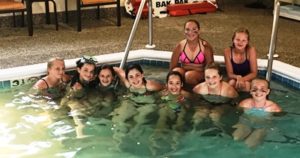 SOME EVENING R & R.  THE GIRLS ENJOY THE POOL
---
JULY 15 & 16……….
STING 16U AND 14U GOLD FIGHT TO SEMIFINALS ON SUNDAY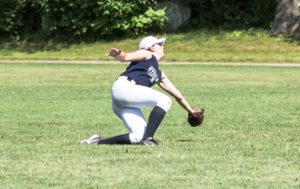 STING 16U

:  ABOVE  CENTER FIELDER GRACE KUCK TWISTS HERSELF INTO A KNOT TO MAKE A GREAT CATCH.  BELOW:  ALWAYS IN FASHION, COACH DAN MARSH SPORTS HIS SUNDAY SHORTS.  JULIE VINCENT WONDERS WHY.
---
JULY 7, 8 & 9……….
STING 16U IN TRADITION COLLEGE SHOWCASE IN WALLINGFORD ……….14U WHITE VISITS WOLCOTT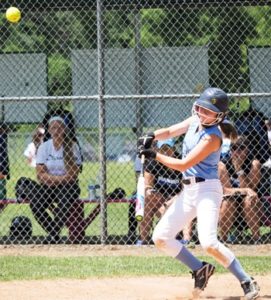 16U ABOVE (TOP):  NIKKI MARSH GETS A "SLAP" HIT TO LEFT.  (BOTTOM):  ISABEL SICILIANO LAUNCHES ONE.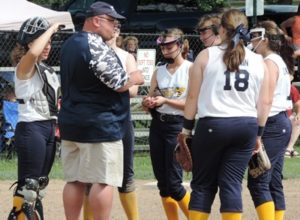 IN WOLCOTT, 14U WHITE TOP:  EMILEY WILSON CONNECTS.  BOTTOM:  COACH AIKEN STRATEGIZES IN THE CIRCLE.
---
JULY 1, 2 & 3……….STING 16U TAKES ON MID-ATLANTIC COMPETITION
STING 16U THIRD PLACE IN MARYLAND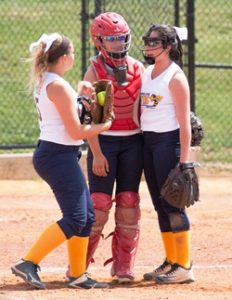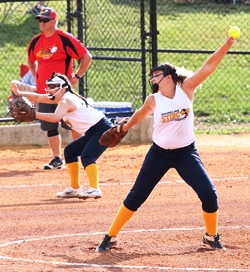 ABOVE LEFT: FROM LEFT:  PITCHER TAYLOR MYERS, CATCHER BRI BEVERLY AND SHORTSTOP BELLA LLANO CONFER.  ABOVE RIGHT:  PITCHER TAYLOR MYERS DELIVERS AND AT THIRD BASE, LIZ RICHARD GETS READY.
WHAT TO DO IN A RAIN DELAY?
STING 16U GOT TOGETHER WITH THE ECLIPSE FROM MASSACHUSETTS AND FOUND A WAY TO EASE THEIR FRUSTRATION DURING A RAIN DELAY.  CLICK ON THE ARROW TO PLAY VIDEO.

---
STING 16U

SPENT THE HOLIDAY WEEKEND TAKING ON SOME VERY TOUGH MID-ATLANTIC COMPETITION IN THE INDEPENDENCE DAY FIRECRACKER IN HAGERSTOWN, MD.  STING FINISHED A RESPECTABLE #4 SEED IN THE POOL AND DOMINATED THE MARYLAND EXPRESS IN THE QUARTERFINALS, BUT FELL A HEARTBREAKING TWO RUNS SHORT TO THE #1 SEED AND EVENTUAL WINNERS, FRONT ROYAL FIRE BLUE FROM VIRGINIA 6-4 IN THE SEMIFINALS.
---
JUNE 24 & 25……….MORE SUNDAY SUCCESS FOR STING TEAMS……….
STING 14U BLUE TAKES CHAMPIONSHIP IN MERIDEN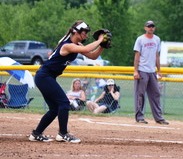 TOP: RYEN WOLCHESKI LAUNCHES A DOUBLE.  MIDDLE:  PITCHER BELLA HILLS LOADS UP.
THE SILVER CITY SLUGFEST 14U CHAMPIONS.
IT WAS A LONG ROAD FOR

STING 14U BLUE

.  THE BATS WERE DYNAMIC ALL WEEKEND, BUT WERE ON FIRE AT JUST THE RIGHT TIME IN THE CHAMPIONSHIP GAME. 

STING

CAME THROUGH WITH FIVE RUNS IN THE 8th INNING AGAINST THE POWERFUL HORNETS BLACK TO NET THEIR SECOND TOURNAMENT CHAMPIONSHIP OF THE YEAR 13-9.

---
STING 14U GOLD FALLS SHORT IN 10 INNING IBT FINALS

A GREAT WEEKEND, BUT A TOUGH TEN INNING IBT LOSS TO TAUNTON DYNAMITE PRODUCED A RUNNER-UP FINISH FOR

STING GOLD

IN THE CT PONY CHAMPIONSHIP GAME IN YALESVILLE, CT.

UNDEFEATED SUNDAY ENDS IN RAIN-OUT FOR 16U
AFTER A DISAPPOINTING SATURDAY,

STING 16U

ENTERED SUNDAY'S CHAMPIONSHIP ROUND THE #9 SEED.  THEY PROCEEDED TO DISPATCH THE #8 SEED CAPE COD CHAOS 11-2 IN THE OPENER, BEHIND BELLA LLANO IN THE CIRCLE AND A 4-4 PERFORMANCE FROM GRACE KUCK.  THE #1 SEED, NEWTOWN THUNDER AWAITED AND

STING 16U

KNOCKED THEM OFF 7-3, WITH TAYLOR MYERS IN THE CIRCLE AND BRI BEVERLY GOING 4-4, WITH TWO DOUBLES.
A BRIEF HARD SHOWER DISRUPTED PLAY IN THE SEMI-FINALS AND THE HOST TEAM, DANBURY CRUSH (#2 SEED) INEXPLICABLY CANCELED THE REST OF THE DAY AND AWARDED THEMSELVES THE CHAMPIONSHIP TROPHY.
---
JUNE 17 & 18……….TWO STING TEAMS PLACE……….
STING 16U EARNS FINALIST IN EAST HARTFORD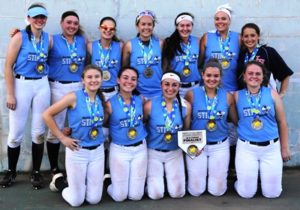 STING 16U WITH THEIR RUNNERS UP AWARDS.  (TOP FROM LEFT):  GRACE KUCK, ISABEL SICILIANO, JULIE VINCENT, BRI BEVERLY, CAITIE CASEY-LEONARD, JESS SMITH & ALYSSIA JONES.  (KNEELING FROM LEFT):   NIKKI MARSH, BELLA LLANO, LIZ RICHARD, TAYLOR MYERS & MEGHAN GILLIS.
STING 16U FINISHED SATURDAY 2-0-1 AND EARNED A NUMBER ONE SEED ON SATURDAY AT USSSA SUMMER SHOOTOUT IN EAST HARTFORD, CT, HIGHLIGHTED BY GRACE KUCK'S BASES LOADED TRIPLE AND JULIE VINCENT'S WINNING "WALK OFF" DOUBLE IN AN EXCITING 6-4 WIN VS CT RAIDERS IN SATURDAY'S FINALE.  ON SUNDAY, STING 16U BEAT VALLEY STORM (MA) IN THE QUARTERFINALS AND MASS INTENSITY IN THE SEMIFINALS.  THEY WERE DEFEATED 4-3 IN THE FINALS.  TAYLOR MYERS AND ISABEL SICILIANO PITCHED WITH EXCELLENCE THROUGHOUT THE WEEKEND.
STING 14U BLUE LAKE CANOBIE, NH RUNNERS UP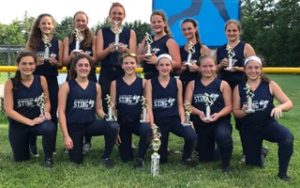 STING 14U BLUE WITH SECOND PLACE TROPHIES.  (STANDING FROM LEFT):  ALLIE PETONITO, TESSA WILLS, ELLA McGLYNN, GIANA CASTLEVETRO, BELLA HILLS, ERIN DONLAN.  (KNEELING FROM LEFT):  MAISSA CASO, MIA DELOUGHERY, SOPHIA OUELLET, LAUREN ACKERMAN, RYEN WOLCHESKI & EMA SIGNORE.
STING 14U BLUE TRAVELED TO LAKE CANOBIE, NH AND BROUGHT HOME A RUNNER UP FINISH.  14U BLUE CAME OUT OF A VERY STRONG 16 TEAM FIELD AS THE #6 SEED.  ON CHAMPIONSHIP SUNDAY, THEY WON THREE GAMES, INCLUDING VICTORIES AGAINST THE #3 SEED IN THE QUARTERFINALS AND THE #2 SEED IN THE SEMIFINALS.
---
SATURDAY MORNING SPORTS SHOW 5:30 – 8:00 AM AND WEEKDAYS 5:30 – 9:00 ON THE "VINNY PENN PROJECT" WELI 960 AM –

"THE COACH GEORGE DEMAIO"

WILL FEATURE

SOFTBALL NEWS AND GUESTS FROM AREA TEAMS. TUNE IN AND STAY IN TOUCH.