---
UPCOMING NEWS & GAMES

SATURDAY JUNE 20, 2020




10U IN CHESHIRE FLAMES TOURNAMENT, WALLINGFORD, CT – GAME SCHEDULE TBA

12U GOLD IN SUMMERTIME SCORCHER, PALMYRA, PA – GAME SCHEDULE TBA

12U BLUE IN CHESHIRE FLAMES TOURNAMENT, WALLINGFORD, CT – GAME SCHEDULE TBA

14U GOLD IN NE CHAMPIONSHIPS IN WINDSOR, CT – GAME SCHEDULE TBA

14U BLUE IN FATHER'S DAY SLUGFEST IN FRANKLIN, CT – GAME SCHEDULE TBA

16U GOLD IN CT TIGER'S SUMMER SLAM IN MERIDEN, CT – GAME SCHEDULE TBA

16U BLUE IN RAPIDS SUMMER SWING IN WATERTOWN, CT- GAME SCHEDULE TBA

18U IN CT TIGER'S SUMMER SLAM IN MERIDEN, CT – GAME SCHEDULE TBA

SUNDAY JUNE 21, 2020




10U IN CHESHIRE FLAMES TOURNAMENT, WALLINGFORD, CT – GAME SCHEDULE TBA

12U GOLD IN SUMMERTIME SCORCHER, PALMYRA, PA – GAME SCHEDULE TBA

12U BLUE IN CHESHIRE FLAMES TOURNAMENT, WALLINGFORD, CT – GAME SCHEDULE TBA

14U GOLD IN NE CHAMPIONSHIPS IN WINDSOR, CT – GAME SCHEDULE TBA

14U BLUE IN FATHER'S DAY SLUGFEST IN FRANKLIN, CT – GAME SCHEDULE TBA

16U GOLD IN CT TIGER'S SUMMER SLAM IN MERIDEN, CT – GAME SCHEDULE TBA

16U BLUE IN RAPIDS SUMMER SWING IN WATERTOWN, CT- GAME SCHEDULE TBA

18U IN CT TIGER'S SUMMER SLAM IN MERIDEN, CT – GAME SCHEDULE TBA

 

 

ED HOBSON – DIRECTOR

65 ORCUTT DRIVE

GUILFORD, CT 06437

(203) 530-3964

hobson01@comcast.net
---
JUNE 20, 2020……….
PLAY BALL!!!
FINALLY!  WE ARE OPEN TO BEGIN OUR 2020 SEASON.  ALL STING TEAMS HAVE TOURNAMENTS SCHEDULED ON

JUNE 20

AND EXPECT TO OPEN THEIR SEASONS.  (PLEASE SEE THE TICKER ABOVE AND CHECK EACH TEAM'S INDIVIDUAL SCHEDULE PAGE.  THERE WILL BE RESTRICTIONS AT EACH VENUE, THAT MAY INCLUDE LIMITING THE NUMBER OF FANS PERMITTED ON PREMISES AND THEIR PLACEMENT ALONG THE SIDELINES AND BEHIND THE OUTFIELD FENCE, NUMBER OF PLAYERS IN THE DUGOUT AT ONE TIME, UMPIRE PLACEMENT ON THE FIELD AND, OF COURSE, SOCIAL DISTANCING RESTRICTIONS OFF THE FIELD.  EACH SITE WILL ENFORCE SPECIFIC RESTRICTIONS, THAT WE WILL COMMUNICATE BEFORE THE BEGINNING OF PLAY.  STAY TUNED FOR MORE INFORMATION. AND GO STING!!!
SHORELINE STINGER XIII, JULY 31 – AUGUST 2, 2020

CLICK HERE

RACHEL MILLER COMMITS TO SCSU
AFTER EVALUATING OFFERS FROM SCORES OF SCHOOLS, 18U STANDOUT PITCHER RACHEL MILLER HAS SIGNED TO PLAY IN HER OWN BACKYARD FOR DII
SOUTHERN CONNECTICUT STATE UNIVERSITY IN NEW HAVEN.
RACHEL WAS A DYNAMIC FORCE IN THE CIRCLE FOR STING 18U IN 2019, WITH A RECORD OF 18-10, WITH 90 STRIKE OUTS AND AN ERA OF 3.16.  (RACHEL WON 2019 TOURNAMENT CHAMPIONSHIP GAMES AT "WAVES SUMMER SLAM" IN RHODE ISLAND AND THE "CHAMPIONS" NATIONAL EVENT IN OSWEGO, NY)  AT THE PLATE, SHE HIT .408 (.457 OBP, .536 SLUGGING).  RACHEL PLAYED AN INTEGRAL PART IN WATERFORD HIGH SCHOOL'S 2019 CLASS M STATE CHAMPIONSHIP SEASON.
AT SCSU, MILLER WILL BE PLAYING FOR COACH JILLIAN RISPOLI AND PITCHING COACH CHRISTINE AKCER, A LONG-TIME SHORELINE STING VETERAN. 
RACHEL WILL PURSUE A DEGREE IN EDUCATION AT SCSU AND LOOKS FORWARD TO A GREAT CAREER WITH THE OWLS.  WE ALL WISH HER MUCH SUCCESS.
THE TEAM CELEBRATES RACHEL'S HOME RUN BLAST IN THE FINAL TOURNAMENT EVENT OF 2019.
STING DOMINATES USM GAMES
ON SUNDAY, MARCH 8, STING 16U GOLD (WITH A LITTLE HELP FROM 18U AND 14U BLUE) SOUNDLY WHIPPED ALL OF THEIR OPPONENTS AT THE UNIVERSITY OF SOUTHERN MAINE 18U GAMES IN GORHAM, ME.  STING OPENED WITH A 4-0 WIN VS. THE POWERFUL SOUTHERN MAINE RIVER RATS (18U), BEHIND A SHUT OUT BY 18U PITCHER, RACHEL MILLER.  IN GAME TWO, 16U GOLD PITCHER VICTORIA GAGE WAS ON FIRE IN THE CIRCLE, THROWING AN 11-0 SHUTOUT VS. NH COMETS RED (16U).  IN THE FINAL TILT, CHRISTINA LOMBARDI, WITH HELP FROM MILLER, BEAT THE NH COMETS (16U) 5 – 2.  THE HITTERS CRUSHED THE BALL ALL DAY.  PICTURED ABOVE, BACK ROW FROM LEFT:  JAMIE BUCIOR (14U BLUE), JAELYNN POTTER (18U), RACHEL MILLER (18U), PAYTON LOWE, HENDRIX KRUSZEWSKI, VIVIAN PARADIS.  FRONT FROM LEFT:  EMILEY WILSON, MEGAN HART, VICTORIA GAGE, GRACE LATHROP.
12U GOLD AT ST. JOSEPH COLLEGE SOFTBALL CLINIC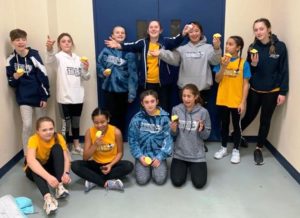 COACH DURKIN'S

12U GOLD TEAM

PARTICIPATED IN THE ST. JOSEPH COLLEGE SKILLS CLINIC ON SATURDAY, FEBRUARY 22 IN WEST HARTFORD.  AFTER THE CLINIC, THE TEAM ATTENDED THE HARTFORD WOLFPACK HOCKEY GAME.  BETWEEN THE CLINIC AND THE GAME, THE TEAM ENJOYS CUPCAKES.  PICTURED ARE:  STANDING FROM LEFT:  ERIN CERNEY, KALEIGH DURKIN, MAKALA ANDERSON, McKAYLA GREENWOOD, CHRISTINA ANEIRO, MIA STARLING, KYRA MANNING.  KNEELING FROM LEFT:  ABBY YOUNG, ANAI ALVAREZ, AVA RYSCZCZK, LILY ARDITO (WHO DOES NOT SEEM TO BE ENJOYING HERS)
---
HAILEY HILL TO PLAY AT MITCHELL COLLEGE
STING 18U INFIELDER, PITCHER AND UTILITY PLAYER, HAILEY HILL, HAS AGREED TO PLAY FOR MITCHELL COLLEGE IN NEW LONDON, CT, COMMENCING IN
THE 2021 SEASON.  MARINER HEAD COACH, ERIN MILLER IS VERY PLEASED TO HAVE HAILEY ON HER 2021 ROSTER.  AT GRISWOLD HIGH SCHOOL, HAILEY HAS STARTED AT THIRD BASE SINCE HER SOPHOMORE YEAR.  SHE ALSO LETTERED IN VOLLEYBALL IN THE FALL.  HAILEY CAN LEGITIMATELY PLAY EVERY POSITION ON THE FIELD, EXCEPT FOR CATCHER, AND WILL PROBABLY HAVE AN OPPORTUNITY TO PLAY ALL EIGHT DURING HER 2020 SUMMER SEASON WITH STING 18U.  SPEED AND VERSATILITY ARE HER GREATEST ASSETS.
"WE ARE VERY EXCITED TO HAVE HAILEY JOIN THE MITCHELL SOFTBALL PROGRAM IN THE UPCOMING YEAR".  SAID MILLER.  "SHE HAS FIT IN EFFORTLESSLY WITH OUR TEAM AND I THINK HER LOVE OF SOFTBALL AND COMMITMENT TO HER EDUCATION WILL ALLOW HER TO BE SUCCESSFUL HERE.  WE CANNOT WAIT TO HAVE HER AND HER FAMILY BE A PART OF OUR PROGRAM.  GO MARINERS!"
HAILEY WILL GRADUATE WITH HIGH HONORS FROM GRISWOLD HIGH SCHOOL IN THE SPRING.  SHE INTENDS TO PURSUE A DEGREE IN CRIMINAL JUSTICE / LAW ENFORCEMENT AT MITCHELL.  WE ALL WISH HAILEY SUCCESS IN HER ACADEMIC AND ATHLETIC PURSUITS THROUGHOUT HER COLLEGIATE CAREER.
STING 18U REYNOLDS SIGNS WITH RWU
ITS OFFICIAL!  STING 18U STANDOUT OUTFIELDER, CAMARYN REYNOLDS HAS SIGNED A PLAYING AGREEMENT WITH ROGER WILLIAMS UNIVERSITY IN BRISTOL, RI., COMMENCING IN THE 2021 SEASON.  CAMI PLAYED IN 52 GAMES IN SUMMER 2019, HITTING .350, WITH NINE EXTRA BASE HITS.  LAST YEAR AS A JUNIOR AT HAMDEN HIGH SCHOOL, SHE WAS SELECTED AS AN ALL-SCC CONFERENCE OUTFIELDER.  CAMI IS LOOKING FORWARD TO PLAYING HER SENIOR YEAR AT HAMDEN, BEGINNING IN APRIL, 2020 AND HER STING TRAVEL TOURNAMENT SEASON, BEGINNING IN JUNE.  SHE WILL BE FINISHING UP HER ACADEMIC CAREER AT HAMDEN AS A HIGH HONOR STUDENT.
CAMI WAS RECRUITED BY RWU AT 2019 SHOWCASE EVENTS IN LONDONDERRY, NH, SWANSEA, MA AND PROVIDENCE, RI, WHERE SHE EXCELLED IN EVERY TOURNAMENT GAME.  RWU HEAD COACH, JOYCE MAUDIE SAYS, "SHE IS VERY HAPPY TO HAVE CAMI JOIN THEIR ROSTER."  CAMI WILL BE JOINING RWU STING VETERANS ALEX BURDICK AND TAYLOR MYERS ON THE ROGER WILLIAMS ROSTER.  HARD WORK PAYS OFF AND WE ALL WISH CAMI WELL IN HER ACADEMIC AND ATHLETIC PURSUITS.
WINTER PRACTICE CONTINUES FOR ALL STING TEAMS
18U:  (TOP) JAELYNN POTTER RECEIVES A PITCH.  16U GOLD: (BOTTOM) COACH DAN MARSH, 14U BLUE HEAD COACH, INSTRUCTS MEGAN HART, AS CHRISTINA LOMBARDI LOOKS ON.
STING 14U TEAMS BOTH PLAY AT ADIRONDACK DOME
14U GOLD FINISHES RUNNER UP IN ADIRONDACK WINTER BLAST

PICTURED ABOVE, 14U GOLD 2020 WINTER BLAST RUNNERS UP:  SITTING FROM LEFT, KILEY MULLINS, NATALIA LUCIBELLO, ADDIE SMITH, GABI SENERCHIA, ALEXA FALCIONI, ADRIANA HILLS.  STANDING FROM LEFT, MORGAN MODINE, EMMA BAYOR, ALAYNA MARIANI AND ALEXANDRA BACHER.  (MISSING IS GABBY BIGIO.)
ON SATURDAY AND SUNDAY, JANUARY, 25 & 26, 2020, BOTH STING TEAMS PLAYED IN THE WINTER BLAST EVENT AT THE ADIRONDACK DOME IN QUEENSBURY, NY. 
STING BLUE

WON THEIR OPENER VS. THE WESTCHESTER HEAT (NY) 10-2, BEHIND PITCHER JAMIE BUCIOR. 

STING GOLD

FINISHED SATURDAY'S POOL ROUND 2-1, HIGHLIGHTED BY TWO HOME RUNS FROM NATALIA LUCIBELLO AND ONE FROM ADDIE SMITH.
SUNDAY'S CHAMPIONSHIP ROUND OPENED WITH A STING VS. STING CONTEST, WITH
STING GOLD

WINNING BEHIND EMMA BAYOR IN THE CIRCLE.  EMMA PITCHED A SHUTOUT AND PUNCTUATED THE PERFORMANCE WITH A MONSTER HOME RUN TO RIGHT CENTER FIELD.  COACH SENERCHIA'S TEAM WENT ON TO WIN THE QUARTERFINALS VS. THE EMPIRE STATE HUSKIES (HOTLE) (NY) AND THE SEMIFINALS VS. THE NY DIAMOND GIRLS.  BOTH SUNDAY WINS WERE CREDITED TO ALEXANDRA BACHER IN THE CIRCLE.  BAYOR, ALEXA FALCIONI AND MORGAN MODINE ADDED SUNDAY HOME RUNS. 

14U GOLD

LOST IN THE THE FINALS TO THE VERY TOUGH EMPIRE STATE HUSKIES (CORBIN) (NY), FINISHING RUNNERS UP IN THE VERY COMPETITIVE 16 TEAM FIELD.
WINTER PRACTICE BEGINS
MANY STING TEAMS HAVE STARTED THEIR INDOOR PRACTICE AND CONDITIONING.  BELOW: 
12U GOLD

WORKS OUT IN NORTH HAVEN.  AT LEFT: CHRISTINA ANEIRO PIVOTS TO BUNT.  CENTER: AVA RYSCZYZK, ANAI ALVAREZ AND ERIN CERNY PARTICIPATE IN A THROWING DRILL  RIGHT:  RYSCZYZK HITS IN THE CAGE.
---
STING 14U GOLD WINS SECOND FALL TOURNAMENT
COACH SENERCHIA'S

STING 14U GOLD

TEAM WON THE CHAMPIONSHIP IN THE "FALL FINALE" AT USSSA FASTPITCH NATION IN WINDSOR, CT. 

14U GOLD

BREEZED THROUGH SATURDAY'S POOL PLAY ON  A FRIGGED NOVEMBER 2 FOR A NUMBER ONE TOURNAMENT SEED.  ON SUNDAY, NOVEMBER 3, IN THE CHAMPIONSHIP ROUND,

14U GOLD

BEAT CT ELIMINATORS 5-4, CT TITANS GREEN 5-3, AND PREVAILED IN THE CHAMPIONSHIP GAME 10-9 AGAINST CT DIAMOND CLUB BLUE. 

14U GOLD

WON TWO OF THEIR THREE FALL TOURNAMENTS IN WINDSOR.
PICTURED ABOVE WITH THEIR CHAMPIONSHIP MEDALS……….

STING 14U GOLD

:  (STANDING FROM LEFT) MORGAN MODINE, GABI SENERCHIA, ADRIANA HILLS, EMMA BAYOR, GABBY BIGIO, ALEX BACHER.  (KNEELING FROM LEFT) KILEY MULLINS, ALEXA FALCIONI, ADDIE SMITH, NATALIA LUCIBELLO, ALAYNA MARIANI.
STING 2019 FALL SEASON ENDS WITH PLAYOFF CHAMPIONSHIPS
RACCOONS – MIDDLE SCHOOL CHAMPIONS

ANAPHYLAXIS – HIGH SCHOOL CHAMPIONS
14U GOLD OPENS 2020 WITH WIN AT WINDSOR
STING 14U

GOLD

DIDN'T MISS A BEAT WHEN THEY MOVED UP TO THE 14U AGE BRACKET, WINNING THEIR OPENING 14U 2020 EVENT AGAINST A VERY STRONG FIELD AT USSSA FALL KICKOFF AT WINDSOR, CT.  COACH SENERCHIA'S

STING GOLD

BEAT A VERY FORMIDABLE ROCHESTER LADY LYONS TEAM 4-3 IN THE FINALS.  PICTURED ABOVE ARE (STANDING) EMMA BAYOR,  GABBY BIGIO, ALEX BACHER, GABI SENERCHIA, ADRIANNA HILLS.  (KNEELING) MORGAN MODINE, NATALIA LUCIBELLO, ADDIE SMITH, ALEXA FALCIONI, KILEY MULLINS.
10U OPENS 2-0 VS THUNDER AT SOUTHINGTON……….
STING'S NEWEST AND YOUNGEST PREPS DURING FALL SEASON
OUR NEWEST AND LITTLEST MEMBERS OPENED THEIR FALL SEASON WITH TWO WINS VS SOUTHINGTON THUNDER AT PANTHORN PARK IN PLANTSVILLE, CT.  PICTURED ABOVE ARE:
STINGER XII DOMINATED BY STING HOST TEAMS
STING GOLD WINS 12U DIVISION
16U BLUE PREVAILS IN STING VS STING 16U FINAL
14U GOLD FINISHES RUNNER UP IN MERIDEN
STING 14U GOLD BRAVED THE SCORCHING HEAT TO GAIN A RUNNER-UP FINISH IN THE SUMMER SPECTACULAR IN MERIDEN, CT.  PICTURED ABOVE (STANDING FROM LEFT) KEVIN BEVERLY, PAUL HAMILTON, ANNA BENSON, CARLY BRASKY, ABBY DAVIS, TESSA McLAUGHLIN, GENELISSE COSTA, EMMA McAVOY, JEFF COSTA, TONY LLANO.  AT BOTTOM (KNEELING FROM LEFT) AVA SINGLETON, CHARLOTTE MARTOCCI, CAYLA BEVERLY, MADDY SMITH, CAROLINE McDERMOTT, ANNA FAGAN.
STING 18U WINS CHAMPIONSHIP AT "CHAMPIONS NATIONAL"
STING 18U

CAME FROM DEEP IN THE PACK AND GAINED VICTORIES IN ALL OF THEIR FOUR BRACKET GAMES ON SATURDAY NIGHT AND SUNDAY, JULY 13 & 14 TO WIN THE PRESTIGIOUS "NATIONALS" EVENT IN OSWEGO, NY.  THEY BEAT NAPANNEE EXPRESS FROM ONTARIO, CANADA IN A COME-FROM-BEHIND "WALK-OFF" NAIL-BITER ON THE "PLAY-IN" SATURDAY NIGHT GAME.  THEY CONTINUED THEIR SUCCESS AS THE BATS CAME ALIVE ON SUNDAY MORNING AND THROUGHOUT THE DAY. 

STING 18U

KNOCKED OFF THE #2 SEED CENTRAL NY MONSTERS 12-7 IN THE QUARTERFINALS AND PROCEEDED TO DOMINATE THE EXTREME BLACK (NY) 11-2 IN THE SEMIFINALS AND SHUT OUT THE #1 SEED POCONO PRIDE 10-0 IN THE FINALS.  PICTURED ABOVE DISPLAYING THE CHAMPIONSHIP BANNER ARE (KNEELING IN FRONT FROM LEFT): ANNIKA RYER, CAMARYN REYNOLDS, NIKKI MARSH, RACHEL MILLER.  (STANDING FROM LEFT):  ERIC BEVERLY, BRIANNA BEVERLY, DAN MARSH, HANNAH LEMKE, JULIE VINCENT, JILLIAN BATICK, JAELYNN POTTER, TAYLOR MYERS, ALEX BURDICK, EMILY NELSON, MacKENZIE PETERS, ED HOBSON, KATHE BURDICK.
---
OOOOOO BABY……….
STING 18U CHAMPIONS AT RHODE ISLAND SUMMER SLAM



STING 18U

FINISHED SATURDAY IN RHODE ISLAND WITH A 3-0 FINISH AND #1 SEED.  ON SUNDAY, JUNE 23, THE 18'S SHUT-OUT THE GRAFTON DIAMONDS 7-0, BEHIND PITCHER MacKENZIE PETERS IN THE QUARTERFINALS.  THEY BEAT THE SOUTH COUNTY SEA DEVILS 8-4 IN THE SEMIFINALS AND THE POWERFUL WATERTOWN RAPIDS 3-1 IN THE FINALS.  BOTH SEMI AND FINAL WINS WERE PITCHED BACK-TO-BACK BY IRON-LADY RACHEL MILLER, IN A COMMAND PERFORMANCE.  RI WAVES SUMMER SLAM CHAMPIONS PICTURED ABOVE IS

STING 18U

:  STANDING FROM LEFT:  TAYLOR MYERS, BRI BEVERLY, CAMARYN REYNOLDS, JILL BATICK, JAELYNN POTTER, EMILY NELSON, RACHEL MILLER, HANNAH LEMKE, ANNIKA RYER.  (IN FRONT):  NIKKI MARSH, ALEX BURDICK, MacKENZIE PETERS, JULIE VINCENT.)
STING 16U TEAMS SPRINT OUT OF THE GATE……….
16U BLUE WINS IT ALL IN RHODE ISLAND
IN THEIR SEASON OPENING EVENT ON JUNE 15 & 16,
16U BLUE

MADE THEIR IMPACT IN THE "NE IMPACT SUMMER OPENER" IN JOHNSTON, RI, WINNING THE EVENT WITH THREE STRAIGHT DOMINANT SUNDAY VICTORIES.  PICTURED ABOVE ARE COACH GAGE'S CHAMPIONS.  (FROM LEFT) FINELLA SMITH, BELLA WILLIAMS, EMILEY WILSON, VIVIAN PARADIS, SAM FRANCESCHI, VICTORIA GAGE, CHRISTINA LOMBARDI, CAYLEE PARKER, CALLIE TEPER, MAYA CONCEPCION, SARA COLEY, MEGAN HART.
---
---
---