UPCOMING NEWS & GAMES
THURSDAY, FEBRUARY 2, 2023
FRIDAY, FEBRUARY 3, 2023
18U GOLD IN ADIRONDACK SPORTS WINTER TOURNAMENT IN QUEENSBURY, NY
630 – VS CAPITOL REGION REIGN ELITE ON FIELD $4

7:15 – VS CD CROSSFIRE ON FIELD #4
12U EAST

& 14U WHITE – 530 – 700 – WINTER PRACTICE AT NORWICH FITNESS CENTER
SATURDAY, FEBRUARY 4, 2023
18U GOLD IN ADIRONDACK SPORTS WINTER TOURNAMENT IN QUEENSBURY, NY
10:10 -VS  ADIRONDACK USSSA PRIDE ON  FIELD #1
14U BLUE – 930 – 1100 – WINTER PRACTICE AT BATTER UP, GUILFORD
SUNDAY, FEBRUARY 5, 2023
18U GOLD IN ADIRONDACK SPORTS WINTER TOURNAMENT IN QUEENSBURY, NY
GAME SCHEDULE BASED ON POOL RESULTS



12U EAST

& 14U WHITE – 600 – 800 – WINTER PRACTICE AT NORWICH FITNESS CENTER
18U BLUE – 530 – 700 – WINTER PRACTICE AT HOMEFIELD, CENTERBROOK
WINTER PRACTICE IN FULL SWING FOR ALL STING TEAMS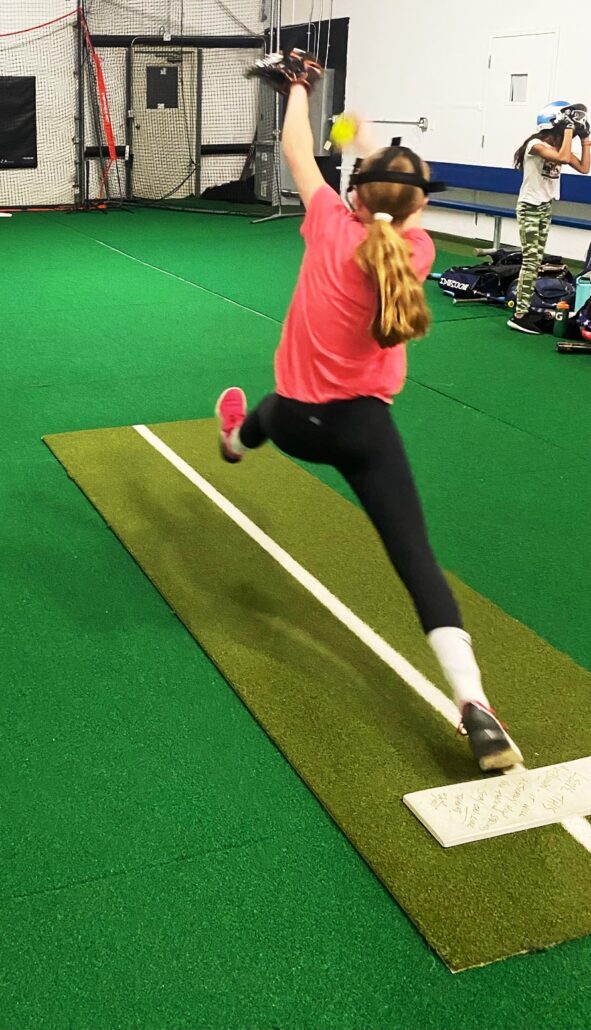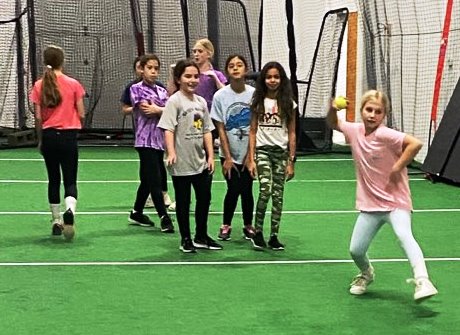 PICTURED ABOVE IS

STING 10U TRAINING AT BATTER UP IN GUILFORD:  PICTURED TOP LEFT,

MAEVE EAGLESON

, ROCKIN' HER PONYTAIL, DELIVERS.  TOP RIGHT,

REGAN KLEIN

WORKS IN A THROWING DRILL WITH HER TEAMMATES LOOKING ON.  JUST ABOVE,

KASEY KOLVA

AND

RYA COPLIN

RUN IN A RELAY DRILL.  (

10U

WORKS OUT EVERY WEDNESDAY.)
12U WEST IS ALSO PRACTICING AT BATTER UP.  THEY ARE SCHEDULED FOR ON MONDAY EVENINGS.  12U EAST AND 14U WHITE HAVE JOINT SESSIONS ON FRIDAY EVENINGS AT NORWICH FITNESS AND SUNDAY MORNINGS AT "THE BUNKER", NORWICH.  BOTH STING 18U TEAMS PRACTICE BACK-TO-BACK ON SUNDAY EVENINGS AT HOMEFIELD, CENTERBROOK, 14U BLUE IS PRACTICING AT BATTER UP, GUILFORD ON SATURDAY MORNINGS.  HIGH SCHOOL-AGED TEAMS (14U AND 18U) WILL STOP WINTER PRACTICE IN MID-MARCH, ACCORDING TO CIAC REGULATIONS.  MANY THANKS TO OUR FACILITY PARTNERS, ESPECIALLY OUR FRIENDS AT CT BOMBERS FOR SHARING THEIR FACILITY WITH US.
SYDNEY ROBISON TO PLAY AT ST. JOE'S, WEST HARTFORD
SHORELINE STING

IS VERY PROUD TO ANNOUNCE THAT

STING 18U GOLD

STANDOUT CATCHER,

SYDNEY ROBISON

, HAS ACCEPTED AN OFFER TO PLAY FOR ST. JOSEPH'S UNIVERSITY IN WEST HARTFORD, BEGINNING IN THE 2023 SEASON.  SYD HAD MULTIPLE COLLEGE OFFERS, BUT ULTIMATELY DECIDE TO ACCEPT AN OFFER FROM ST. JOE'S, WHERE SHE WILL STUDY NURSING.
SYD IS A
STING

VETERAN, WHO HAD A TAKEN A FEW YEARS AWAY, BUT HAS RETURNED TO

STING

TO PLAY THE 2023 – 18U SEASON.
SYDNEY

IS A SENIOR AT THE MORGAN SCHOOL IN CLINTON, WHERE SHE IS A FOUR-YEAR STARTER AND THE CATCHER FOR THE HUSKIES.  SHE WAS AN ALL-SHORELINE CONFERENCE SELECTION.
WE WISH
SYDNEY

HAPPINESS AND A SUCCESSFUL COLLEGIATE CAREER WITH THE BLUE JAYS.
STING 18U BLUE STANDOUT COMMITS TO NCAA PLAY
CAYLEE SIGNS WITH STEVENSON U. IN MARYLAND
18U BLUE STANDOUT CAYLEE CLIETT

, CATCHER & THIRD BASEMAN, HAS COMMITTED TO PLAY AT STEVENSON UNIVERSITY IN OWINGS MILLS, MD. 

CAYLEE

HAD AN OUTSTANDING 2022 SEASON WITH

SHORELINE STING BLUE

, PLAYING IN 42 GAMES WITH 113 PLATE APPEARANCES,  A .362 BATTING AVERAGE, A .478 ON BASE PERCENTAGE WITH 29 RBIS (TEAM SECOND). 

CAYLEE

IS A PROVEN POWER HITTER, ESPECIALLY IN CLUTCH SITUATIONS.
CAYLEE

WILL BEGIN HER SENIOR (2023) SCHOLASTIC SEASON AT LEDYARD HIGH SCHOOL, WHERE SHE HAS ALSO BEEN AN OUTSTANDING PLAYER, MOSTLY AT THIRD BASE.  SHE WILL GRADUATE WITH HONORS IN JUNE. 

CAYLEE

IS LOOKING FORWARD TO A FULL TRAVEL SEASON IN SUMMER 2023, ONCE AGAIN WITH HER FRIENDS AND TEAMMATES AT

18U BLUE

, BEFORE JOINING THE MUSTANGS IN MARYLAND FOR HER FRESHMAN YEAR AND MIDDLE ATLANTIC CONFERENCE COMPETITION.
CAYLEE

IS A TEAM LEADER AT

STING,

AND ALL OF HER COACHES AND TEAMMATES SEND CONGRATULATIONS AND WISH HER HAPPINESS AND SUCCESS AT STEVENSON. 

CAYLEE

LIVES IN LEDYARD, CT WITH HER FAMILY.
STING 10U WINS FALL LEAGUE, BEATS LIGHTNING 7-6 IN FINAL
WINNING ANOTHER CHAMPIONSHIP,
STING 10U

WON THEIR FINAL GAME VS.  THE HOST "LIGHTNING" 7-6 IN THE SOUTHINGTON FALL LEAGUE.  IN THEIR MOST EXCITING GAME OF THE SEASON,

STING

BATTLED BACK TWICE WITH TIMELY HITTING AND BIG DEFENSIVE PLAYS. 

MAEVE EAGLESON

JUMP-STARTED THE OFFENSE WITH A THREE-RUN HOME RUN OVER THE FENCE IN THE THIRD INNING TO PUT

STING

UP 4-3.

  STING

FELL BEHIND LATE, DESPITE SOME GREAT DEFENSIVE PLAYS, LIKE

ALLIE MAYNARD'S

6-6-3 DOUBLE PLAY AND

LEAH MICHALOWSKI'S

OVER THE SHOULDER RUNNING CATCH, KEEPING THE GAME CLOSE THROUGH THE MIDDLE INNINGS, SETTING UP A NAIL-BITING FINISH. 

GABBY GIARDINA

RALLIED THE OFFENSE WITH A BIG DOUBLE IN THE SIXTH.  SHE SCORED THE TYING RUN, BATTED IN BY

RYA COPLIN

. 

LILA SHEPARD

USED HER SPEED ON THE BASES TO SCORE THE GAME WINNING RUN. 

EAGLESON

AND

CASEY KOLVA

EACH PITCHED THREE INNINGS COMBINING FOR TEN STRIKE OUTS AND ALLOWING ONLY FOUR HITS TO A POWERFUL "LIGHTNING" OFFENSE. 

KOLVA

ALSO CHIPPED IN WITH A HIT AND AN RBI AT THE PLATE. 

STING 10U

WILL TAKE SOME TIME OFF AND BEGIN WINTER PRACTICE WITH A FALL "FPN" TOURNAMENT WIN AND A FALL LEAGUE CHAMPIONSHIP.  PICTURED ABOVE IN FRONT FROM LEFT ARE

REAGAN KLEIN

,

ALLIE

MAYNARD

,

OLIVIA MAHON

,

GABBY GIARDINA

,

ENIAYAH PRAY

AND

RYA COPLIN

.  STANDING IN BACK FROM LEFT ARE

KENZIE BEENEY

,

MAEVE EAGLESON

,

LEAH MICHALOWSKI

,

CASEY KOLVA

,

LILA SHEPARD

.  (MISSING IS

CHASE FERRIAOLO

.)  COACHES PICTURED IN REAR FROM LEFT ARE

KYLE EAGLESON

,

MIKE MICHALOWSKI

AND

DOMINIC GIARDINA

.  (PICTURED INSET LEFT IS

MAEVE EAGLESON

WITH THE CHAMPIONSHIP TROPHY, CELEBRATING HER "OVER-THE-FENCE" HOME RUN.)
STING 10U CROWNED FPN SPOOKTACULAR I CHAMPS

STING 10U BEGAN THEIR YEAR WITH A PERFECT 5-0 CHAMPIONSHIP RESULT AT THEIR ONE AND ONLY FALL TOURNAMENT, FPN SPOOKTACULAR I.  STING 10U BEGAN THEIR POOL PLAY SATURDAY WITH A 7 – 5 VICTORY VS. THE ALWAYS POWERFUL  CT LIGHTNING.  THEY FOLLOWED THAT UP WITH A 15-0 "RUN LIMIT" WIN VS CT DIAMOND CLUB.  IN GAME THREE, THEY BEAT SD RIPTIDE 10- 4, FOR A PERFECT 3 – 0 SATURDAY AND A NUMBER ONE SEED.
STING 10U OPENED UP CHAMPIONSHIP SUNDAY WITH A 12 – 5 SEMI-FINAL WIN VS SD RIPTIDE AND FOLLOWED WITH A CONVINCING 10 – 4 CHAMPIONSHIP VICTORY VS. THE LIGHTNING.  COACH EAGLESON'S TEAM, PICTURED ABOVE, DRESSED AS SUNFLOWER SEED IN FASTPITCH NATION'S VERY FUN ANNUAL DRESS UP HALLOWEEN EVENT, ON THE BEAUTIFUL FALL WEEKEND OF OCTOBER 15 & 16. PICTURED BELOW UNDER THE CHAMPIONSHIP SCOREBOARD IS STING 10U.  (FRONT ROW FROM LEFT ARE CHASE FERRAIOLO, REAGAN KLEIN, ALLY MAYNARD.  (PLAYERS IN THE BACK FROM LEFT) ARE LEAH MICHALOWSKI, GABBY GIARDINA, ENAIYAH PRAY, RYA COPLIN, CASEY KOLVA, MAEVE EAGLESON, OLIVIA MAHON, KENZIE BEENEY, LILA SHEPARD.  COACHES STANDING IN BACK ARE (FROM LEFT) KYLE EAGLESON, MIKE MICHALOWSKI AND DOM GIARDINA.
STING 14U TAKES SECOND FALL TOURNAMENT CHAMPIONSHIP

STING 14U

MAINTAINS A PERFECT, TWO TOURNAMENTS AND TWO CHAMPIONSHIPS, RECORD FOR THE FALL OF 2022.  IN SEPTEMBER,

STING 14U

WERE VICTORIOUS IN THE "CT TITANS SHOWDOWN".  ON OCTOBER 2, THEY TOOK THE RAIN-SHORTENED, FPN "TUNNELS TO TOWERS" CHARITY EVENT AT FPN PARK IN WINDSOR, CT.  THE PARK SUFFERED A SOAKING ON SATURDAY, OCTOBER 1, FORCING ALL POOL GAMES TO BE CANCELLED.  FPN RESET THE POOLS FOR SUNDAY AND

STING 14U

OPENED WITH A CONVINCING 7-1 WIN AGAINST THE LONG ISLAND SURGE (NY).  IN THE SECOND GAME, THEIR PROLIFIC OFFENSE PASTED THE NORTHEAST HURRICANES (NH) 10-6.  IN SUNDAYS FINALE, THEY EDGED THE CT CHARGE 6-5, FOR A PERFECT 3-0 POOL RECORD AND ONLY GIVING UP 12 RUNS, ONE RUN LESS THAN THE SECOND PLACE SYRACUSE SPORTS ZONE (NY).  MIA GAUTHIER HAD HER BREAKOUT PERFORMANCE, GOING 4-6, WITH THREE DOUBLES ON THE DAY.  LAUREN VITARISI ADDED TWO MORE HOME RUNS, GIVING HER A TOTAL OF FOUR THIS FALL.  PICTURED ABOVE FROM LEFT ARE ANNABELLE WENZEL, MIA GAUTHIER, EVA BACKHAUS, PEYTON LEMAY, SOPHIA SARDO, LAUREN VITARISI, ASHLEY BERARDESCA, SKYLAR GAGE, ALIA MARTONE AND SOFIA LUDINGTON.

THIS WAS YET ANOTHER TOURNAMENT WIN FOR

STING 14U

, WHO RETURN TO FASTPITCH NATION, THIS TIME IN COSTUME, ON OCTOBER 22 & 23 FOR THE VERY FUN FPN HALLOWEEN SPOOKTACULAR II.
STING 10U HOLDS DOWN FIRST IN SOUTHINGTON FALL LEAGUE
STING 10U IS CURRENTLY 4 – 0 AND HOLDING DOWN FIRST PLACE IN THE SOUTHINGTON FALL LEAGUE.  STING 10U ROTATES FOUR PITCHERS, WHO ARE ALL HAVING SUCCESS.  THEY ARE BACKED UP BY SOLID DEFENSE AND GREAT HITTING.  PICTURED ABOVE LEFT IS RYA COPLIN LINING A PITCH INTO LEFT FIELD.  AT ABOVE RIGHT IS ALLISON MAYNARD WAITING ON BASE, AND BELOW CENTER IS REAGAN KLEIN, ONE OF THE FOUR CONSISTENT PITCHERS IN COACH EAGLESON'S ROTATION.  THE STING 10U PLAY DOUBLEHEADERS EVERY WEEKEND AT PANTHORN PARK IN SOUTHINGTON.
14U CHAMPIONS IN TITANS SHOWDOWN IN TERRYVILLE, CT
STING 14U

NOTCHED AN AMAZING CHAMPIONSHIP SUNDAY TO FINISH IN THE WINNERS CIRCLE AT THE TITANS SHOWDOWN
ON SEPTEMBER 11, 2022.  AFTER A ROCKY 1 – 2 SATURDAY,

STING 14U

EMERGED ON SUNDAY AND WON THEIR OPENER.  IN THE SEMI-FINALS, THE HOST TITANS LED 6-3 GOING INTO THE FINAL FRAME. 

STING

PUSHED TWO RUNS ACROSS, CUTTING THE DEFICIT TO ONE, WHEN PITCHER

LAUREN VITARISI

CAME TO THE PLATE WITH A RUNNER ON THIRD. 

VITARISI

KNOCKED THE BALL OVER THE CENTER FIELD FENCE TO GIVE

STING

THE LEAD.  SHE THEN SHUT DOWN THE SIDE IN THE BOTTOM FRAME TO GIVE

STING

THE ONE-RUN VICTORY AND A BERTH INTO THE FINALS.
STING

BEAT THE CT JADES 13-5 FOR AN EASY WIN AND THE CHAMPIONSHIP GAME. 

VITARISI

ADDED HER SECOND ROUND-TRIPPER IN THE FINAL.
PICTURED ABOVE ARE (TOP ROW FROM LEFT TO RIGHT,

COACH PAUL LUDINGTON

,

MADI DESTEFANO

,

SOPHIA SARDO

,

EVA BACKHAUS

,

MIA GAUTHIER

,

ANNABELLE WENZEL

,

ASHLEY BERARDESCA

AND

COACH BILL STEFANO

.  BOTTOM (FROM LEFT)

KAYLYN VERNON

,

SOPHIA LUDINGTON

,

ALEXA

SNEDEKER

,

LAUREN VITARISI

AND

ALIA MARTONE

.  MISSING FROM THE PICTURE ARE

COACH BIANCA PAPPACODA

AND

PEYTON LEMAY

.  PICTURED INSET RIGHT IS

VITARISI

DISPLAYING HER TWO HOME RUN BALLS.
18U GOLD WINS NUTMEG STATE GAMES & STING 10U CROWNED CVFL CHAMPS
STING OLDEST & YOUNGEST NET LATE JULY CHAMPIONSHIPS
ON SUNDAY, JULY 24,
SHORELINE STING

WON AT BOTH ENDS OF THE AGE SPECTRUM, WITH

18U GOLD

(PICTURED LEFT) RELIED ON INCREDIBLE POWER HITTING AND TENACIOUS PITCHING BY

REESE MAIN

TO WIN THE NUTMEG STATE GAMES IN MIDDLETOWN. 

STING 18U GOLD

BEAT STING 18U BLUE, CT ANGELS AND CT HORNETS IN THE ITB FINALS.  PICTURED ABOVE LEFT, STANDING

COACH DAVID GAGE

,

ADDIE HAUPTMANN

,

CARLY LOPRESTO

,

PAYTON

LOWE

,

REESE MAIN

,

VICTORIA GAGE

,

BELLA CORREA

,

CHRISTYNA WINSTEAD

,

COACH CHRIS WINSTEAD

.  KNEELING BELOW ARE

CHRISTINA LOMBARDI

,

MADDIE ALLARD

,

VIVIAN PARADIS

,

GRACE LATHROP

AND

PAIGE KOLESNIK

.

STING 10U, PICTURED AT RIGHT, CULMINATED A LONG HARD SEASON WITH A CHAMPIONSHIP VICTORY VS THE CT RAPIDS.  THE 10'S UPHELD THEIR #1 SEED, EARNED OVER THE COURSE OF THE SEASON, AND BEAT THE RAPIDS WITH ANOTHER STELLAR, NO HIT PERFORMANCE BY PITCHING ACE, CAMPBELL LECKEY.
STING 14U BLUE CHAMPIONS IN MASS
PICTURED ABOVE IS STING 14U BLUE, WINNERS OF "SUMMER BURN" IN MIDDLEBORO, MA.  FRONT ROW FROM LEFT:  LAUREN VITARISI, ALIA MARTONE, SOFIA LUDINGTON, SAM JOHNSON, MIA GAUTHIER.  BACK ROW:  ASHLEY BERARDESCA, HEAD COACH PAUL LUDINGTON, MADDIE DESTEFANO, ANNABELLE WENZEL, MALLORY SADORRA, ALEXA SNEDEKER, PEYTON LEMAY, EVE BACKHAUS, COACH BILL DESTEFANO, (MISSING FROM THE PICTURE IS COACH TOM MARTONE).
STING 14U BLUE WINS THE "SUMMER BURN" TOURNAMENT IN MIDDLEBORO, MA.  THE GIRLS TOOK HOME THE CHAMPIONSHIP TROPHY.  WITHOUT THE PRIVILEGE OF A BYE, THEY WON

FOUR

GAMES ON SUNDAY AS THE #5 SEED.  THEIR WINS INCLUDED "RUN LIMIT" WINS VS THE #1, #2 AND #4 SEEDS.  IT WAS A COMPLETE TEAM EFFORT.  ON SUNDAY, EVERY PLAYER ON THE ROSTER HAD AT LEAST ONE BASE HIT AND ALL THREE PITCHERS HAD A WIN.
USA SOFTBALL NATIONAL RUNNERS UP IN EASTERN QUALIFIER
STING 18U BLUE FINALISTS IN FIRECRACKER EXPLOSION IN MARYLAND
STANDING FROM LEFT: COACH PAUL HAMILTON, COACH ED HOBSON,KYLEIGH PINELL, JALYN REED, BRIANNA SEGAR, CAYLEE CLIETT, HANNA DIAS, KRISTIE ZATOR, JULIA SMITH, COACH ALEX BURDICK, COACH KATHY BURDICK,  KNEELING FROM LEFT, BROOKE LINARES, JILL COFRANCESCO, HANNAH BURROWS, ELLA "SWEET" PICKLES, EMMA McAVOY, CARLY BRASKY AND IN THE FRONT LACEY THE PUPPY.
16U OPENS SUMMER RUNNERS UP IN BRIDGEPORT
---

STING 16U

OPENED THEIR SUMMER TOURNAMENT SEASON, FINISHING 2-1 IN SATURDAY POOL PLAY IN USA SOFTBALL'S "SOUND OF SOFTBALL" IN BRIDGEPORT, CT.  BEHIND NEWCOMER BREE GIRARD

IN THE CIRCLE

,

STING

DEFEATED THE RIDGEFIELD TIGERS AND THE CT PRIDE.  THE OFFENSE WAS LED BY THE HOT BATS OF

MELANIE MARTIN

(4-5), WITH A DOUBLE, TRIPLE AND HOME RUN ON THE DAY. 

COURTNEY VAUSE

CHECKED IN WITH A 4-4 DAY (WITH TWO WALKS)
ON CHAMPIONSHIP SUNDAY

STING

AVENGED THEIR ONLY SATURDAY LOSS, BEATING THE WILDCATS 8-2, BEHIND ANOTHER STRONG PITCHING PERFORMANCE BY

GIRARD

. 

JAMIE BUCIOR

TOOK THE BALL IN THE SEMI-FINALS AND LED

STING

TO A 13-4 VICTORY AGAINST THE RIDGEFIELD TIGERS. 

BUCIOR

WAS 2-2 AT THE PLATE, WITH A DOUBLE AND

MARTIN

ADDED ANOTHER TRIPLE ON THE WEEKEND. 

STING

MATCHED UP AGAINST THE BEACON EXTREME FROM NY IN THE FINALS.  THE GAME SAW FOUR LEAD CHANGES.  EXTREME PREVAILED TO WIN THE CHAMPIONSHIP 6-5 ON THE FINAL PLAY OF THE GAME.  SPEEDSTER,

ARLENE McKIERNAN

STOLE EIGHT BASES OVER THE WEEKEND.
STING 16U

IS PICTURED ABOVE.  STANDING FROM LEFT ARE,

COACH DAN MARSH

,

JENNA SCHAUDER

,

TAYLOR FERRAIOLO

,

COURTNEY VAUSE

,

TEAGEN

MULVIHILL

,

ANNA SOLIWODA

,

MELANIE MARTIN

,

ALYSSA MAIKOWSKI

,

BREE GIRARD

,

JAMIE BUCIOR

,

COACH MIKE BUCIOR

AND

COACH KATIE

HOBSON

.  KNEELING IN FRONT IS

ARLENE McKIERNAN

.  (MISSING FROM THE PICTURE IS

JENNIE CRETELLA

.)
1

8U BLUE APPEARS IN RI WAVES FINALS AND 10U GETS TO SEMIS IN MASS
BIG ONES & LITTLE ONES SUCCESSFULLY OPEN SUMMER OUT-OF-STATE
14U BLUE SILVER WINNERS AT CT TIDES SPRING SURGE

AFTER LOSING TWO SATURDAY "NAIL BITERS",

14U BLUE STING

, MANAGED TO BEAT THE CENTRAL MASS HEAT, BEHIND

MALLORY SADORRA

IN THE CIRCLE.  IN THE SUNDAY SEMIFINALS AGAINST THE CT ELIMINATORS,

STING

HELD A NARROW LEAD.  PITCHER

ANNABELLE WENZEL

STRUCK OUT TWO IN THE FINAL FRAME, BUT THE ELIMINATORS FOUGHT BACK, PUTTING RUNNERS ON FIRST AND SECOND. 

EVE BACKHAUS

ENDED THEIR HOPES, SNAGGING A LINE SHOT AT SECOND BASE, AND PUT

STING

INTO THE SILVER FINALS. 

WENZEL

GOT THE WIN IN THE CIRCLE WITH A FIVE-STRIKE OUT, FIVE INNING "RUN-LIMIT" VICTORY. 

STING 14U

IS PICTURED ABOVE:  BOTTOM FROM LEFT: 

ALIA MARTONE

,

SOFIA LUDINGTON

,

LAUREN VITARISI

,

SAM JOHNSON

AND

ALEXA SNEDEKER

.  STANDING FROM LEFT: 

ASHLEY BERARDESCA

,

MADISON DISTEFANO

,

MALLORY SADORRA

,

ANNABELLE WENZEL

,

EVE BACKHAUS

,

PEYTON LEMAY

AND

MIA GAUTHIER

.