GRACE KUCK (STING 18U)
OUTFIELD / 3B / 1B
DANIEL HAND HS (2019), MADISON, CT
5-11 / BATS RIGHT / THROWS RIGHT
2.9 HOME-TO-FIRST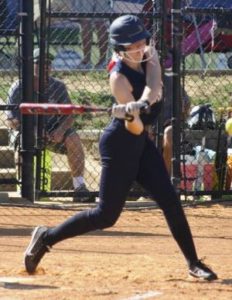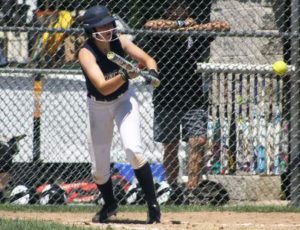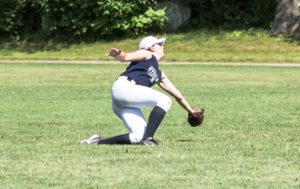 GPA:  3.58 (AP U.S. HISTORY / AMERICAN LITERATURE HONORS / AP SPANISH / PRE-CALCULUS
ACADEMIC INTEREST:  LAW & CRIMINAL JUSTICE
JUNIOR ACHIEVEMENT VOLUNTEER (FEBRUARY 2017) / GUILFORD LITTLE LEAGUE CLINIC VOLUNTEER (MARCH AND SEPTEMBER 2017) / UNIVERSITY OF NEW HAVEN YOUTH CSI ACADEMY (JULY 2017)
| | | | | | | | | | | | | | |
| --- | --- | --- | --- | --- | --- | --- | --- | --- | --- | --- | --- | --- | --- |
| | BATTING AVG | ON BASE % | RUNS SCORED | 2B | 3B | HR | RBI | SLUGGING % | SAC | WALKS | HP | K% | SB |
| 2017 STING | .411*** | .513 | 21 | 2 | 2 | 0 | 18 | .464 | 2 | 4 | 1 | 10% | 13/15 |
THE BUZZ: GRACE WAS THE STING 16U LEADING HITTER IN 2017.  SHE ACHIEVED THIS WITH GOOD CONSISTENT SOLID CONTACT AND BLAZING SPEED THAT SHE USED TO BEAT OUT INFIELD HITS.  SHE COMBINED HER HOME-TO-FIRST SPEED WITH A SKILLED "SNEAK" BUNTING ABILITY TO BECOME A VERY DANGEROUS OFFENSIVE WEAPON.  GRACE ALSO HAS THE ABILITY TO HIT WITH GAP POWER.  HER SPEED, HUSTLE AND STRONG ARM MAKE HER A TREMENDOUS CENTER FIELDER.  SHE HAS SHOWN THAT SHE HAS NO FEAR OF DIVING AND LAYING OUT FOR ANY CHANCE.  SHE PROTECTS HER OUTFIELD POSITION WITH GRIM DETERMINATION.  GRACE ALSO HAS THE ABILITY TO PLAY CORNER INFIELD POSITIONS WITH EXCELLENCE.  GRACE'S SKILL AND VERSATILITY MAKE HER A VALUABLE RECRUIT AT THE NEXT LEVEL.

I HAVE BEEN PLAYING SOFTBALL SINCE MIDDLE SCHOOL AND I ENJOY IT MORE THAN ANYTHING.  I AM EXTREMELY DETERMINED TO IMPROVE ATHLETICALLY ON AND OFF THE FIELD.  I HAVE PLAYED EVERY POSITION AT SOME POINT IN MY CAREER, BUT I EXCEL AT, AND LOVE BEING AN OUTFIELDER.  I HAVE HAD TWO YEARS OF TRAVEL SOFTBALL EXPERIENCE AND I FEEL READY TO PLAY AT THE NEXT LEVEL. –

GRACE KUCK

.
IF ANY COACH OR RECRUITER HAS AN INTEREST IN GRACE, PLEASE CONTACT US.