KAYLA ROSARIO
CATCHER / INFIELD
EAST HAVEN H.S. (2021), EAST HAVEN, CT

5-4 / BATS RIGHT / BATS RIGHT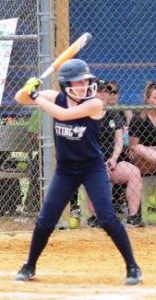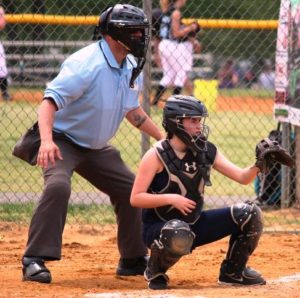 EARNED CONSISTENT HIGH HONORS AND IS NAMED TO THE JUNIOR NATIONAL HONOR SOCIETY AT MELILLO SCHOOL, EAST HAVEN.  AWARDED "PRESIDENT'S AWARD" FOR EXCELLENCE IN HER ACADEMIC CLASSES, INCLUDING A LETTER FROM PRESIDENT TRUMP.

VOLUNTEERS AT EAST HAVEN BEACH CLUB CAMP, AS A COUNSELOR IN TRAINING.
---
STARTING CATCHER IN HER 7th AND 8th GRADE YEARS, HELPING TO LEADER HER TEAM TO AN UNDEFEATED SEASON.
---
STATISTICS PENDING……….
---
THE BUZZ:  "KAYLA IS A LEADER ON AND OFF THE FIELD FOR HER 14U GOLD TEAM.  SHE BRINGS THE WHOLE GAME TO THE FIELD.  NOT ONLY A GREAT CATCHER WITH A ROCKET ARM, KAYLA CAN PLAY ANY INFIELD POSITION WITH GREAT EXCELLENCE.  SHE IS A GREAT CONTACT HITTER, WITH GAP POWER, HITTING BOTH FOR AVERAGE AND POWER.  SHE'S LIGHTNING FAST AROUND THE BASES."
"I'VE BEEN PLAYING SOFTBALL SINCE ABOUT 2012, AND HAVE LOVED IT EVER SINCE.  I STARTED PLAYING TRAVEL SOFTBALL IN 2014 AND JOINED SHORELINE STING THE NEXT YEAR, PLAYING IN 2015, 2016 AND 2017.  I GREW PASSIONATE FOR CATCHING IN LITTLE LEAGUE.  WITH CONTINUOUS PRACTICE AT CATCHING, I AM CONSTANTLY STRIVING FOR PERFECTION.  AFTER HIGH SCHOOL, I WOULD LIKE TO ATTEND THE UNIVERSITY OF FLORIDA, OR ANY GREAT SOFTBALL SCHOOL.  I BELIEVE THAT IF I CONTINUE TO DO WELL ACADEMICALLY AND PHYSICALLY, I CAN ACHIEVE ANYTHING." –

KAYLA ROSARIO
ANY COACH INTERESTED IN ISABEL, OR DESIRING ADDITIONAL INFORMATION, PLEASE WRITE TO hobson01@comcast.net.