SARA COLEY – STING 18U



PITCHER / INFIELD / UTILITY
NORWICH FREE ACADEMY (2021),  PRESTON, CT
5-6 / BATS RIGHT / THROWS RIGHT
FASTBALL IN THE LOW 60 MPH / CURVE / SCREWBALL / CHANGE UP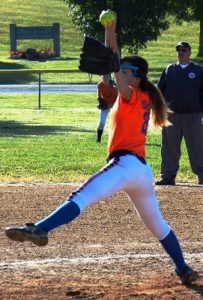 TWO-YEAR VARSITY PLAYER AT NFA (2019 EASTERN CT CONFERENCE CHAMPS & LL STATE RUNNERS UP)
VARSITY FIELD HOCKEY – THREE YEARS
HONORS CLASSES IN SPANISH & ENGLISH / UNIFIED CLUB / VARSITY "N" CLUB
| | GAMES | BATTING AVG | RUNS | DOUBLES | TRIPLES | HR | RBI | OB % | SLUGGING % | BB/HP | K % |
| --- | --- | --- | --- | --- | --- | --- | --- | --- | --- | --- | --- |
| 2019 STING | 45 | .424 | 31 | 12 | 4 | 2 | 37 | .482 | .687 | 11 | 12 |
THE BUZZ:

 

SARAH IS A POWER PITCHER AND A POWER HITTER.  IN THE CIRCLE, SHE ACCELERATES HER FASTBALL IN THE LOW SIXTIES AND MIXES IN HER VERY SKILLFUL CHANGE UP, CURVE BALL AND SCREWBALL.  ON DEFENSE, SHE IS SOLID IN THE MIDDLE INFIELD AND CAN PLAY OUTFIELD, AS WELL.  SHE HAS A VERY STRONG ARM FROM ANYWHERE ON THE FIELD.  AT THE PLATE, SARA IS TRUE POWER HITTER, REGULARLY PEPPERING THE OUTFIELD GAPS WITH EXTRA BASE HITS.  SARA WILL BE A GREAT BENEFIT TO ANY TEAM AT THE NEXT LEVEL.
"I HAVE BEEN PLAYING SOFTBALL SINCE I WAS FIVE.  AS THE YEARS HAVE GONE ON, I HAVE BECOME MORE AND MORE SERIOUS ABOUT THIS SPORT.  SOFTBALL HAS TAUGHT ME SO MANY LIFE LESSONS AND GIVEN ME SO MANY OPPORTUNITIES FOR WHICH I AM GRATEFUL  NOTHING HAS EVER COME EASY TO ME, SO I HAVE HAD TO WORK HARD FOR EVERYTHING ATHLETICALLY AND ACADEMICALLY.  I AM VERY PERSISTENT AND DON'T BELIEVE IN GIVING UP.  I WILL CONTINUALLY WORK FOR SOMETHING AND PUT IN EXTRA TIME AND EFFORT, BECAUSE I WANT TO BE BETTER.  I KNOW THAT THERE IS ALWAYS ROOM FOR IMPROVEMENT, THAT IS WHY I'M COACHABLE.  ONCE I SET MY MIND TO SOMETHING, I WILL CONTINUE TO WORK FOR IT UNTIL I REACH MY GOALS.  I AM A LEADER ON AND OFF THE FIELD.  I LIKE TO SUPPORT EVERYONE AROUND ME AND MAKE OUR TEAM A WELCOMING ENVIRONMENT, WHILE BEING A LEADER AND TAKING RESPONSIBILITY.  I AM GOOD AT COMMUNICATING AND I AM VERY OUTGOING

MAKING IT EASY TO BLEND WITH EVERYBODY."

– SARA COLEY
SEE SARA'S SKILL VIDEO BELOW:
ANY COLLEGE COACH WHO HAS ANY INTEREST IN SARA, PLEASE CONTACT US AT hobson01@comcast.net / (203) 530-3964, OR 16U GOLD HEAD COACH DAVID GAGE AT david.gage@jud.ct.gov / (860) 227 0085, OR DAN COLEY AT dcphoto@snet.net / (860) 639 9868.